null - Commercial Real Estate News Releases | Avison Young News
Commercial real estate news releases from Avison Young
Quarterly and topical research insights to help your business gain competitive edge in commercial real estate.
Avison Young closes $105M sale of Biscayne Place, a full city block spanning ±3.04 acres for major residential, mixed-use development near Miami's Arts & Entertainment District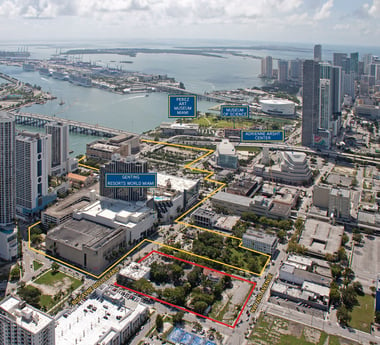 December 20, 2021
All-cash deal represents the highest price per unit for any non-waterfront property in the district
Miami – Avison Young's Florida Capital Markets Group completed the $105 million sale of Biscayne Place, an area-defining residential and mixed-use development opportunity comprised of one full city block measuring ±3.04 acres. The property is located at 1700 Biscayne Blvd. in the Edgewater neighborhood, just north of Miami's Arts & Entertainment District. The Melo Group, a Miami-based development firm, purchased the property in an all-cash deal with plans to build apartments, condominiums, and retail spanning four 60-story towers.
Avison Young Principals Michael T. Fay, who is also Managing Director of the firm's Miami operations; John K. Crotty, CCIM; David Duckworth; Vice President Brian C. de la Fe; and Associate Berkley Bloodworth represented the Fort Lauderdale-based selling entities led by James Goldstein. Global Investments Realty Principal Joel Rodriguez represented the Melo Group.
"At $69,000 per buildable unit, the Biscayne Place sale marks the highest price per square foot for any non-waterfront property in Miami's Arts & Entertainment District and the second-highest in Edgewater," said Fay. "It was a pleasure to work with the seller, James Goldstein, a long-standing client, to sell the property for what will be an iconic mixed-use project for the area."
The transaction underscores the high demand for apartments, which continue to garner record rental rates throughout South Florida. Rent in Miami is 10% higher than projections from the beginning of the pandemic, according to studies. Avison Young research further indicates Metro Miami's projected population growth, due to domestic and international migration, in the coming five years is expected to exceed 9%. Currently, the Edgewater submarket outperforms both the Greater Downtown and the Miami-Dade County markets in rent growth and occupancy.
Positioned between Biscayne Boulevard and Northeast Second Avenue and between 17th Street and 17th Terrace, the site sits in an Opportunity Zone that ranks in the top 1% in terms of population growth and total retail sales. It is currently home to a Burger King, a two-story mixed-use commercial building, a house converted for commercial use, and parking lots as well as several vacant parcels. The property's future development will enjoy spectacular views, walkability, and frontage on Biscayne Boulevard which provides a marquee address and superb accessibility.
Avison Young creates real economic, social and environmental value as a global real estate advisor, powered by people. As a private company, our clients collaborate with an empowered partner who is invested in their success. Our integrated talent realizes the full potential of real estate by using global intelligence platforms that provide clients with insights and advantage. Together, we can create healthy, productive workplaces for employees, cities that are centers for prosperity for their citizens, and built spaces and places that create a net benefit to the economy, the environment and the community.
Avison Young is a 2020 winner of Canada's Best Managed Companies Platinum Club designation, having retained its Best Managed designation for nine consecutive years.
Follow Avison Young
Twitter (News)│Twitter (Deals)│Blog│LinkedIn│YouTube│Instagram
For more information:
Michael T. Fay, Principal and Managing Director, Avison Young – Miami: 305.447.7842
John K. Crotty, Principal, Avison Young – Miami: 305.447.4865
David Duckworth, Principal, Avison Young: 954.938.1806