Sightlines
Returning to the workplace amidst COVID-19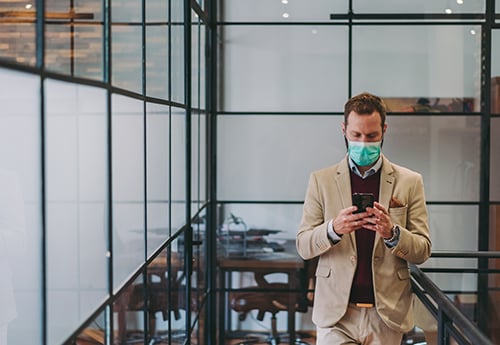 mai 7, 2020
As businesses prepare to return to the workplace, owners and tenants will require thoughtful guidance and enhanced best practices for creating healthy and safe workplaces during the COVID-19 pandemic. With the understanding that businesses and jurisdictions around the globe will experience different response-recovery life cycles, and therefore need thoughtful and evolving recovery plans based upon the best and most up-to-date information from our health care professionals, local governments and industry organizations, our Real Estate Management Services team is recommending a series of steps to assist owners and occupiers in navigating their "Returning to the Workplace Amidst COVID-19" strategy and adjustments for the "new normal." Since every asset and site condition is unique and there is no "one size fits all" solution, owners should carefully review each of the recommendations for applicability to their facilities. This guidance is intended to assist owners and their managers to tailor implementation within the unique needs of each building.
The seven areas of focus are:
Communications – A clear and consistent communications program for a safe and effective return to the workplace strategy.
Physical Distancing Awareness – Owners should coordinate with their property managers to engage in regular communication with tenants on the status of each phase and when phases change, as provided by local governments and authorities.
Janitorial/Cleaning Services – Buildings will need to implement janitorial/cleaning best practices for all tenants to safely return to the office.
Building Operations – Tenant/occupiers and owners/investors should conduct a full review of all building operations and activities that occur within their premises or asset.
Security – Partnering with your security service provider is critical to ensure that management is providing a welcoming and healthy workplace.
Mechanical and Building Systems – Owners should consider any guidance in the context of the specific HVAC system type in a building, and the purpose and use of the facility.
Signage – It is critical that owners work closely with their managers to ensure that each property has proper signage in place that reinforces a safe return to workplace strategy.
During these times of constant change, owners and managers must stay abreast of the latest guidance provided by local governments, the U.S. Centers for Disease Control (CDC), The World Health Organization (WHO), NHS UK, UK government, U.S. government and Canadian government as well as industry organizations such as IREM, RICS and BOMA International. Owners should regularly check with their managers for updates.
Resources and Implementation Examples
Read Returning to the Workplace Amidst COVID-19 strategy guide (Canada and U.S.)
Read Returning to the Workplace Amidst COVID-19 strategy guide (UK - Landlords)
Read Returning to the Workplace Amidst COVID-19 strategy guide (UK - Occupiers)
Read Returning to the Workplace Amidst COVID-19 strategy guide (Germany)
The spread of COVID-19 and the containment policies being introduced are changing rapidly. While information included is current as of the date written, the views expressed herein are subject to change and may not reflect the latest opinion of Avison Young. Like all of you, Avison Young relies on government and related sources for information on the COVID-19 outbreak. We have provided links to some of these sources, which provide regularly updated information on the COVID-19 outbreak. The content provided herein is not intended as investment, tax, financial or legal advice and should not be relied on as such.