null - Commercial Real Estate Blog | Avison Young
Avison Young's commercial real estate blog
Bucharest Investment Market: Office Properties Traded At Least Twice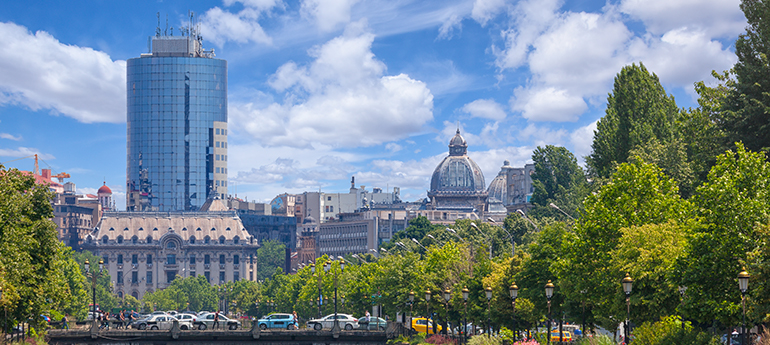 juin 25, 2020
Bucharest, the largest city in Romania and the 4th largest in the EU by population, has 3.2 million sq. m of class A and B office stock, divided between eleven submarkets. The first modern office buildings were developed here in the early 2000s, in areas such as Central Business District (CBD) or Central submarket. These locations offered some land availabilities, were very well connected to the public transportation system including the underground, and were favored by the multinationals that were looking to relocate from old stock or to open new businesses in Romania.

Being the largest real estate market in the country, the city attracted the interest of international investors looking to acquire quality properties that offered high profitability rates. The first significant office investment deals concluded in Bucharest were recorded in CBD and Central area in 2003. Between 2006 and 2019 the total office investment value reached approx. 3.37 billion euros. Over this period of time, the lowest office prime yield value and the largest office investment volume was recorded in 2007.
Compared with Western European office markets, Bucharest could be considered a rather young office location, given that most of its modern office spaces were developed in the last fifteen years. Considering this, an interesting question emerges: since the first quality office buildings were traded, are there any office properties that have been sold at least twice?

According to our research, yes. We identified fifteen office buildings in Bucharest with a GLA of ~280,000 sq. m (9% of the existing office stock) that have went through at least two sale cycles, the total investment value recorded being of 1.28 billion euros. These projects are located in different office submarkets, with Pipera South and CBD taking the lead in terms of area. Although the number of office properties traded at least twice might be higher, we included in our analysis only the projects about which we could track or estimate information related to transactional values.
Whilst the largest office building subject of at least two investment deals is located in Pipera South (BOC Tower), the Central Business District of Bucharest records the highest number (five) of office buildings that have met the requirements of our analysis. Among these type of properties are America House, Europe House and Charles de Gaulle Plaza, projects that are considered to be landmarks of the local office market.
Going forward, more than 100,000 sq. m of office spaces are expected to go through a second sale cycle. The majority is located in Barbu Vacarescu – Floreasca submarket, one of the most notorious office hubs in Bucharest. When these investment deals will be finalized, the area will take the lead in terms of total office surface that was traded at least twice during its life cycle.
Mihaela is an Associate Director of Research and is responsible for coordinating research activities for Romania's Office, Industrial and Investment division.
© 2023. Avison Young. Information contained in this report was obtained from sources deemed reliable and, while thought to be correct, have not been verified. Avison Young does not guarantee the accuracy or completeness of the information presented, nor assumes any responsibility or liability for any errors or omissions therein. All opinions expressed and data provided herein are subject to change without notice. This report cannot be reproduced, in part or in full, in any format, without the prior written consent of Avison Young.