Avison Young's commercial real estate blog
Life sciences: office-to-lab conversions can be difficult, but more owners are finding them worthwhile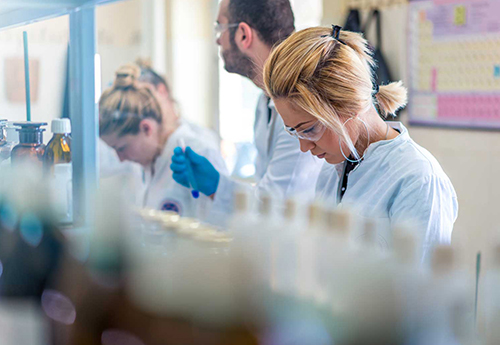 April 10, 2021
The COVID-19 pandemic has had dramatically different effects on different sectors of commercial real estate. While hotels, restaurants, and office buildings saw day-to-day use plummet, other sectors, such as big-box retail and warehouse/distribution, performed quite well. Among the high performers: life sciences.
Aided by consistent funding from government sources and venture capitalists, life sciences organizations continued their work in advancing medical technology and treatments, including vaccines for the novel coronavirus. And because so much work in the life sciences requires physical proximity, labs remained relatively full of people throughout 2020, while appetite for specialized R&D space continued unabated.
In fact, life sciences space has become so attractive that some owners are converting traditional office buildings into labs. For example, BioMed Realty acquired John Hancock's former headquarters in Boston's Seaport area with plans to turn it into a life sciences center. And in Durham, NC, Longfellow Real Estate Partners is converting a former WeWork.
Pivoting from one use to another is never perfectly straightforward, but continued uncertainty in the office market is making it more and more appealing for building owners to consider the possibility. Below are three challenges involved in office-to-lab conversions, along with the reasons why the circumstances might be right to meet and overcome them.
Challenge: location
Work in life sciences tends to "cluster" around funded institutions, such as major research universities and hospitals. The assembled knowledge of researchers with advanced degrees is crucial for success, as is close collaboration. Thus, life sciences organizations prefer to be extremely close to the institutions that support their work, which are not always adjacent to the office-filled urban core.
On the other hand…
Growth in life sciences has happened so quickly that, in some markets, there is essentially no more available space or developable land. For example, Cambridge is still the center of life sciences work in the Boston area, but growth is already spilling over into other submarkets, like the Seaport and even downtown. In this context, conversion projects like BioMed's make a lot of sense.
Challenge: size and height
Life sciences-focused properties tend to be smaller than the traditional office buildings in most markets. This is in part because intensive HVAC needs often require higher ceilings, which means fewer floors. Fire codes can also effectively restrict certain life sciences work to lower levels. The net effect is that relative to an office tower, there is less overall space to lease on the same footprint.
On the other hand…
Life sciences occupiers are usually either well-established or well-funded (or both), and they are willing to commit to space at a time when many office-using tenants are balking at anything beyond short-term extensions. And as they grow, life sciences organizations can shift more of their administrative back-office functions to higher floors, albeit at lower rents. Finally, the net lease arrangements common for life sciences tenants simplify the operational outlook for building owners.
Challenge: specialized physical requirements
Depending on the desired use, it can be very expensive to retrofit an existing building for a life sciences use. For example, some labs handle materials that are highly flammable or that must be stored at extremely low temperatures. Specific parameters for temperature, humidity, vibration, and plumbing are common requirements that can be difficult to implement.
On the other hand…
Many life sciences occupiers have very specific requirements for their research that impact their space needs, and their funding arrangements often account for this. It is common, therefore, for these occupiers to contribute financially to the buildout of their space. This has the added advantage of making them "stickier," as they will prefer to stay in a location where they have invested so heavily.
The combination of these factors shows why conversions, while not without barriers, are increasingly interesting for building owners. As the sector continues its growth amid the lingering fallout of the pandemic, they will become more and more common.
Learn more about the sector in our Life Sciences Industry Overview.
Phil Mobley is our Director of U.S. Occupier Research, based in our Boston office.