null - Commercial Real Estate Blog | Avison Young
Avison Young's commercial real estate blog
Getting back to where they once belonged?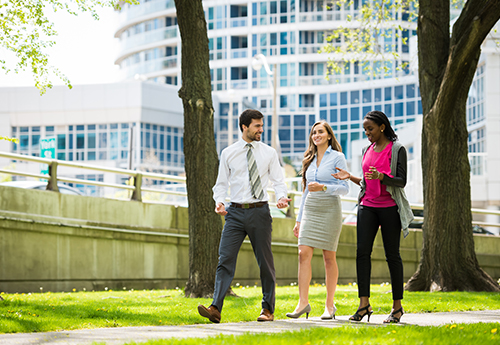 August 6, 2021
Major office-using companies are saying vastly different things about their office in the post-COVID world.
As circumstances allow more and more for the safe use of office space, the hot takes rage on about exactly how much the future will resemble the past. Public comments from some of the world's largest and most influential companies stir the debate in headline-sized type.
On one end of the spectrum, leaders like JPMorgan's Jamie Dimon have mused about canceling their Zoom subscriptions, saying that meeting remotely "doesn't work for people who want to hustle, doesn't work for culture, doesn't work for idea generation."[1] Similarly, David Solomon of Goldman Sachs called remote work "an aberration that we're going to correct as soon as possible."[2] On the other end, companies like Twitter have announced the flexibility they will offer employees to "work from home forever"[3] and have actively touted this in their recruitment messaging. Tech giants like Microsoft[4] and Facebook[5] sit somewhere in the middle.
These statements raise plenty of questions. How representative are these companies of their respective industries? What are the implications of a given policy for attracting and retaining talent? How different are they really? And what factors might lead some companies to put forth a more office-centric direction while others lean more toward remote?
To begin to get a handle on all this, our team collected and analyzed dozens of public statements made by major corporations. We then plotted them by size and by the relative office/remote centricity of their stated policies to visualize what, if any, common threads exist.
While it's hard to draw too many conclusions, it is interesting that nearly all the tech companies in this analysis fall into some version of the hybrid workplace model—a blend of office and remote. Financial services firms, by contrast, are much more dispersed, with some tending far toward an office-centered future (at least for now) and others at the opposite extreme. While the sample size is limited, it is interesting to note that many traditional banking and investment institutions tend toward the office-centric end of the spectrum, while some more consumer-oriented insurance firms are taking a more remote-oriented approach.
If nothing else, this shows that workplace policy is not merely than a tactical decision based on functional roles and task analysis—though certainly it is not less than that. Now, however, the role of the workplace—including the remote workplace—is a strategic choice. Amazon clearly had this in mind back in March when it announced its "return to an office-centric culture as our baseline." Why this choice? Because the company "believe[s] it enables us to invent, collaborate, and learn together most effectively."[6] Twitter's contrasting "work from anywhere" messaging may be different, but it is no less strategic as they use it to entice workers away from their current companies.[7]
The differences reveal that some companies view workplace policy largely as a performance booster for existing workers, while others see it more as a mechanism to attract new ones. Time will tell whether one, the other, or both strategies win the day. For now, it indicates yet another competitive lever in marketplace for talent.
[1] https://nypost.com/2021/06/24/jpmorgan-bringing-back-office-workers-regardless-of-vaccine-status/
[2] https://www.bbc.com/news/business-56192048
[3] https://blog.twitter.com/en_us/topics/company/2020/keeping-our-employees-and-partners-safe-during-coronavirus
[4] https://blogs.microsoft.com/blog/2021/03/22/the-philosophy-and-practice-of-our-hybrid-workplace/
[5] https://www.bloomberg.com/news/articles/2021-03-26/facebook-to-start-reopening-silicon-valley-offices-in-may
[6] https://www.aboutamazon.com/news/company-news/amazons-covid-19-blog-updates-on-how-were-responding-to-the-crisis#covid-latest
[7] https://www.linkedin.com/posts/tracy-hawkins-5b303326_twitter-careers-activity-6783422297593266176-qxsW
Phil Mobley is our Director of U.S. Occupier Insight, based in our Boston office.
© 2023. Avison Young. Information contained in this report was obtained from sources deemed reliable and, while thought to be correct, have not been verified. Avison Young does not guarantee the accuracy or completeness of the information presented, nor assumes any responsibility or liability for any errors or omissions therein. All opinions expressed and data provided herein are subject to change without notice. This report cannot be reproduced, in part or in full, in any format, without the prior written consent of Avison Young.