Industrial Construction Levels Remain High, But Are Costs Rising?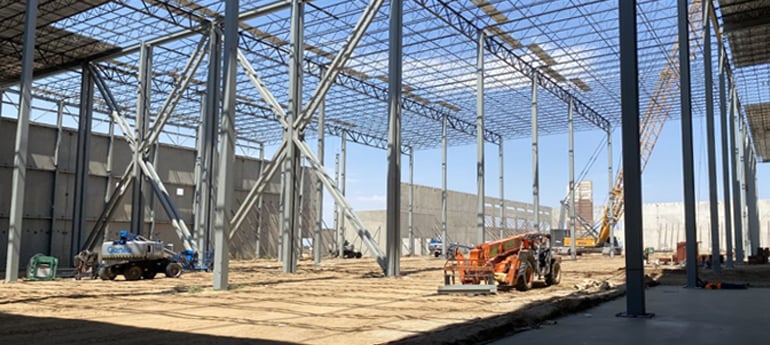 7 May 2021
AY Industrial Capital Markets Impacts and Opportunities
There has been much attention to growth markets (and e-commerce trends) that are taking developers, and equity sources, to smaller markets around the country that many would have not thought to be industrial investment opportunities just a few years ago. While this trend continues, we should not forget some of the major markets (and population centers) and their industrial investment trends which we explore in this edition.
Best,


Erik Foster
Principal
Head of Industrial Capital Markets
Have a minute? Please take our short survey!
Top Markets: Strong Demand and a Few Headwinds
Approaching the mid-point of 2021, there is continued optimism about the industrial sector, as many investors, developers and occupiers predict a strong finish to the year. A review of market fundamentals shows that leasing and construction activity remain strong across the country and vacancy rates are at or near record lows in many markets.
This optimism is tempered, however, by continued uncertainty about rising construction material costs (as discussed in our previous newsletter); challenges finding labor in some markets; rising transportation costs; and continued ripples in the supply chain. The Avison Young capital markets team routinely collaborates with experts from throughout the firm's global offices to identify and track emerging trends that can impact our clients' businesses.
For this newsletter, we reached out to our experts across the country for the first of ongoing stories about where the market is heading for the latter half of the year. How will the easing of COVID restrictions impact the economy and demand for industrial space? What's driving development and how long can the strong cycle be sustained? How is the rush to find space last-mile delivery impacting developers and tenants? Here's a recap from three key U.S. markets.
Atlanta Sets Records for Low Vacancy, Construction
Atlanta's industrial market set numerous records at the end of 2020 and that momentum has carried into 2021. The vacancy rate is at an all-time low of 4.1% and first quarter 2021 absorption hit a record 11.2 million square feet. e-commerce companies remain the largest tenants in the market as consumers are still doing a large portion of their shopping online until vaccines are widely available to the public and more retail stores begin to reopen.
Construction activity is at an all-time high. At the end of the first quarter, the Atlanta industrial market had the largest amount of new space ever recorded underway, 28.2 million square feet, of which a significant 43% of the space was already preleased. It is anticipated that 2021 will see the most new inventory the market has ever recorded, if the current project pipeline remains on track. The outlook for the remainder of 2021 is strong, yet headwinds from material cost increases and a shortage of labor may cause some bumps in 2022.
Significant cost increases and supply shortages in steel, lumber and other materials are creating a problematic environment where developers (and their lending sources) are being asked to pay more -- and commit quickly to lock in pricing. Some steel suppliers are quoting a six- to nine-month lead time for deliveries, for example. The cost increases and delivery delays are particularly painful to smaller businesses and those that have been adversely impacted during the pandemic.
The industrial sector is also seeing an influx of developers and investors that traditionally focus on the hospitality, retail and office sectors. As these entities look to put capital to work, it is creating a more competitive environment and pushing up pricing. This is occurring in Atlanta as well as markets across the country. Given this environment, cap rates should continue to compress in Atlanta and other markets over the next nine months.
Capital markets activity was up 20.8% in the first quarter of 2021 (to $761 million) from the first quarter of 2020. A few large portfolio sales were recorded, but the majority were individual building sales. Demand for flex properties is increasing, as investor find better yields versus warehouse/distribution properties. Flex properties on the market as seeing a record number of offers, which is pushing sales pricing upward.
Chicago Last Mile Surge, Possible Service Industry Resurgence
As COVID-19 vaccinations rise and more U.S. cities reopen, the Chicago market can expect to see strong demand continue throughout 2021. The surge in e-commerce is fueling tremendous demand for modern space near the city's urban centers and in outlying submarket that cater to traditional big box users. That momentum should continue into 2022.
In second and third quarters of 2021, the market should see the resurgence of companies in service-related businesses such as restaurants, hotels, rental car companies and airlines. Convention and exhibit space businesses, as well as those in the audio/visual, commercial laundry and fleet service industries should also start to reopen or increase their existing business activity.
Throughout the past three years, developers have been working at breakneck speed to build new spaces to meet demand. Industrial construction is at all-time highs and is expected to remain so for the next several quarters. However, absorption of space combined with delays in steel and concrete delivery should prevent overbuilding in most Chicago submarkets.
With e-commerce growing at a pace equal to three to four years of normal growth, all eyes are on last mile and "last touch" delivery. Amazon continues to grow at a tremendous pace, but the company is also losing market share as other businesses try to carve out a presence in this sector. Infill product near growing population pools that can support same and next-day deliveries should continue to lease as quickly as it is built.
Looking ahead to the second half of 2021, demand is expected to outpace supply across many industries. Inflationary conditions are beginning to appear, however, creating the potential for some headwinds in the next 12 months or so.
Dallas-Fort Worth Demand Still Strong, Rents Clim
The Dallas-Fort Worth metroplex continues to be one of the premier industrial markets in the country -- and there is no reason to expect that to change in the near term. Job growth, construction, absorption and affordability have helped keep the market moving at a record-breaking pace. The pandemic has accelerated demand for warehouse and distribution space as more retail patterns moved online, a significant shift that will keep demand quite strong for industrial product for the time being.
The market is also the top market for product under construction in the first quarter of 2021, with 28.1 million square feet underway. This follows a record-setting 2020 when 31.5 million square feet was completed. More than 6.2 million square feet of industrial space has been completed each quarter since Q1 2020, with more than 26.9 million square feet under construction each of the last five quarters.
Despite this massive building spree, vacancies have remained flat due to a combination of impressive demand for speculative projects and a few major build-to-suits that delivered. Groundbreakings have yet to slow down and speculative construction is ramping up. Impressive leasing velocity on spec projects and the large number of build-to-suits make it likely that vacancies will remain low over the next few quarters.
All of this activity is pushing rental rates higher, a trend that should continue as more and more businesses look for a centralized location that is also more business (and cost) friendly than many gateway markets.

A special thanks to Avison Young Principals Chip Watson in Atlanta and Adam Haefner in Chicago for their market insights.
Sources: Avison Young research, CoStar, Commercial Property Executive
Erik Foster, Principal
Head of Industrial Capital Markets
312.273.9486
[email protected]