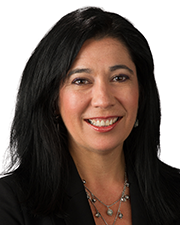 Sandra

Hill
U.S. Media Relations Manager

4400 Post Oak Parkway
Suite 1500

Houston, TX 77027 US
As U.S. media relations manager, Sandra Hill assists with driving a cohesive U.S. media strategy for Avison Young and is responsible for developing, drafting and pitching brand-building news stories to top-tier national and regional media. She also ensures that storytelling is cross-promoted on the firm's social media channels.
Sandra began her career with Avison Young in the firm's Houston office where she successfully led public relations initiatives and external communications efforts in the greater Houston area.
Prior to Avison Young, Sandra had a diverse media and government relations career that included communication roles in the U.S. government with U.S. Senator Phil Gramm and later with Speaker of the House Newt Gingrich.
She also advocated homeownership issues to members of Congress on behalf of Fannie Mae as her role as a government and industry relations manager. Sandra was recognized as one of the most influential Hispanics in the U.S. by Hispanic Business Magazine in 1998.
Education
University of Houston (USA) – Jack J. Valenti School of Communication – Bachelor of Arts in Journalism
---