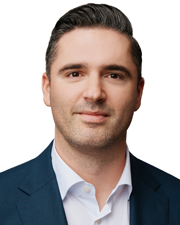 Janse

Rain
Broker
Principal


Industrial
77 City Centre Drive
Suite 301

Mississauga, ON L5B 1M5 CA
Janse's commercial real estate career began with Avison Young in March 2012 with a primary focus on the GTA West industrial market. Since joining Avison Young, Janse has assisted multiple companies in the GTA overcome their real estate challenges by utilizing his market knowledge, creative thinking, and strong work ethic to help his client achieve success. Having completed over 400 transactions, Janse's expertise and guidance is trusted and relied on by some of the largest real estate companies in the North America. Having completed numerous successful transactions with Manulife, Pure Industrial Real Estate Trust (PIRET) , Concert Properties, Cominar REIT and KingSett Capital.
Janse continues to develop his sales and leasing experience within the Avison Young Industrial Team and in 2016 was the top producing "Young Gun" (Five years or less in the industry) in Ontario and a finished in the top three from 2015-2017.
A graduate of York University where he earned a BA while playing on the Men's Varsity Hockey Team. Janse also built a successful business while attending York University, employing over 75 sales representatives with locations in Ontario and Alberta and servicing over 3,500 customers he successfully sold the business to a national competitor at the conclusion of 2011.
Credentials
PROFESSIONAL AFFILIATIONS / ACCREDITATIONS
Top Producing "Young Gun" In Ontario 2016
Top Three Producing "Young Gun" in Ontario 2015,2016,2017
Canadian Real Estate Association
Real Estate Council of Ontario
Ontario Real Estate Association
Toronto Real Estate Board
EDUCATION
York University – Bachelor of Arts – Business and Society
Member of the York University Men`s Varsity Hockey Team
---
Properties
7290 Torbram Road

7290 Torbram Road

Mississauga , ON L4T 3Y8

Industrial
For Lease
1317 Cardiff Boulevard

1317 Cardiff Boulevard

Mississauga, ON L5S 1R1

Industrial
For Sale
3540 & 3560 Wyecroft Road

3540 & 3560 Wyecroft Road

Oakville, ON L6L 6R5

Industrial
For Lease
190 Glover Road

190 Glover Road

Hamilton, ON L0R1P0

Industrial
For Lease
67 Selby Road

67 Selby Road

Brampton, ON L6W 3L4

Industrial
For Sale / For Lease
170 Steelwell Road

170 Steelwell Road

Brampton, ON L7A0A1

Industrial
For Lease
6665 Tomken Road

6665 Tomken Road

Mississauga, ON L5T2C2

Office
For Lease
250 Superior Blvd

250 Superior Blvd

Mississauga, ON L5T 2L2

Industrial
For Lease
2405-2421 Drew Road

2405-2421 Drew Road

Mississauga, ON L5S 1T2

Industrial
For Lease
375 Britannia Rd E

375 Britannia Rd E

Mississauga , ON L4Z 1X9

Industrial
For Lease
405 Britannia Road E

405 Britannia Road E

Mississauga, ON L4Z 1X9

Office
For Lease
415 Traders Blvd E

415 Traders Blvd E

Mississauga, ON L4Z 2E5

Industrial
For Lease
6645 Tomken Road

6645 Tomken Road

Mississauga, ON L5TC2C

Office
For Lease
190 Statesman Drive

190 Statesman Drive

Mississauga, ON L5S 1X7

Industrial
For Lease
444 Seaman Street

444 Seaman Street

Hamilton, ON L8E 2V9

Office
For Lease
6685 Tomken Road

6685 Tomken Road

Mississauga, ON L5T2J6

Office
For Lease
6625 Tomken Road

6625 Tomken Road

Mississauga, ON L5T2C2

Office
For Lease
6705 Tomken Road

6705 Tomken Road

Mississauga, ON L5T2J6

Office
For Lease