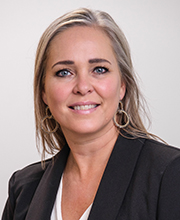 Debbie

Bands
Principal


Occupier Solutions

Strategic Business Advisory
129 Rivonia Road
Tower 2, Second Floor, The Marc

Sandton,
Debbie is a Principal of Avison Young South Africa and has a good understanding and experience of property service delivery in South Africa. Debbie has strong client relationship and team management skills with her focus being on Strategic Advisory, Transaction Management and Occupier Services for corporate clients.
She has in excess of 15 years' experience in translating the clients' business requirements into best-in-class property solutions, lease management, sourcing and securing new office premises, including financial assessment / analysis of each alternative available to the client to ensure the most cost-effective solution is provided.
Debbie possesses efficient project management and co-ordination skills and is results oriented.​
Client List
PwC
FirstRand
Momentum Metropolitan Life Limited
Curo Financial Services
Kagiso Tiso Holdings
CCBSA
SAB
KPMG​
---