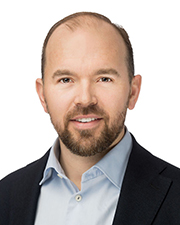 Ben Sykes
Sales Representative
Principal


Industrial

Investment
Toronto West
77 City Centre Drive
Suite 301
Mississauga, ON L5B 1M5 CA
Ben Sykes is an industrial real estate specialist with over 12 years of experience assisting both occupiers and owners across the Greater Toronto Area to maximize the value in their real estate. His areas of expertise include strategic planning, transaction management, logistics analysis, development and design/build advisory, asset valuation, project management, and land acquisitions and development.
His honest, advisory approach and service excellence has resulted in Ben working on multiple assignments with loyal clients both in the GTA and across North America.
Ben is passionate about always getting better and enjoys learning about the various industries his clients operate within. He strongly believes that working as part of a team provides the best solutions for his clients and believes that the business served is only as good as the relationship that it is built upon.
In December 2012, Ben became the youngest Principal in North America at Avison Young. Thanks to great clients, Ben have been a perennial "Top 10" producer at Avison Young in Ontario having consecutively achieved this in 2013, 2014, 2015 and 2016.
Ben's hard work and dedication to his industry was recognized by Orlando Corporation, Canada's largest private industrial landlord, awarding him "Broker of the Year" for 2013 having assisted client's lease 1,200,000 square feet that year in Orlando's portfolio.
Ben is passionate about helping those in need, annually co-chairing the "Avison Young Golf for a Cure" Golf tournament and participating in the Brian Connor Rice Lake Swim and Ride in support of Jesse's Journey and Duchenne Muscular Dystrophy.
Sample of Recent Transactions:
| | | |
| --- | --- | --- |
| SOLD | $25.2M | 3 Building Portfolio (Mississauga (2) & Vaughan) |
| SOLD | $13.0M | 125 Maplegrove Blvd, Cambridge |
| SOLD | $11.5M | 80 Van Kirk Drive, Brampton |
| SOLD | $8.6M | 2 Walker Drive, Brampton |
| SOLD | $6.8M | 1625 Shawson Drive, Mississauga |
| SOLD | $6.6M | 194 Earl Stewart Drive, Aurora |
| SOLD | $6.0M | 3461 Erindale Station Road, Mississauga |
| SOLD | $6.0M | 400 Harry Walker, Newmarket |
| SOLD | $5.3M | 680 Granite Court, Pickering |
| SOLD | $4.8M | 100 North Queen, Etobicoke |
| SOLD | $4.2M | 77 Nantucket Blvd. Scarborough |
| SOLD | $4.0M | 100 Costa Road, Vaughan |
| SOLD | $4.0M | 2975 Drew Road, Mississauga |
| SOLD | $3.6M | 241 Deerhurst Drive, Brampton |
| SOLD | $3.3M | 2677 Drew Road, Mississauga |
| SOLD | $3.3M | 977 Century Drive, Burlington |
| SOLD | $1.2M | 133 Queen Street, Mississauga |
| | | |
| --- | --- | --- |
| LEASED | 7090 Kennedy Road, Mississauga | 244,000 sf |
| LEASED | 4240 Harvestor Road, Burlington | 142,000 sf |
| LEASED | 215 Courtneypark Drive, Mississauga | 103,500 sf |
| LEASED | 6630 Tomken Road, Mississauga | 94,600 sf |
| LEASED | 55 Walker Drive, Brampton | 78,000 sf |
| LEASED | 6865 Edwards Blvd, Mississauga | 77,000 sf |
| LEASED | 137 Horner Avenue, Toronto | 76,000 sf |
| LEASED | 6300 Edwards Blvd, Mississauga | 67,000 sf |
| LEASED | 185 Courtneypark Drive, Mississauga | 48,000 sf |
| LEASED | 330 Cochrane Drive, Markham | 39,000 sf |
Credentials
Credentials:
Member – SCL Canada (Supply Chain and Logistics Association of Canada)
Member – TREB (Toronto Real Estate Board)
Member – RECO (Real Estate Council of Ontario)
Candidate – SIOR (Society of Office and Industrial Realtors)
Top Producer Recognition - 2008-2011
Education:
BA, Honors, Urban Development, University of Western Ontario
---
Properties
1295 Cormorant Road

1295 Cormorant Road

Ancaster, ON

Industrial
For Lease
776 Dundas Street E

776 Dundas Street E

Mississauga, ON

Industrial
For Sale
1000 Central Parkway West

1000 Central Parkway West

Mississauga , ON

Land
For Sale
1325 Aimco Boulevard

1325 Aimco Boulevard

Mississauga, ON

Industrial
For Lease
Kipling Avenue & King Vaughan Road

Kipling Avenue & King Vaughan Road

Vaughan, ON

Land
For Sale
100 Kennedy Road South

100 Kennedy Road South

Brampton, ON

Industrial
For Sale
75 Venture Drive

75 Venture Drive

Toronto , ON

Industrial
For Lease
1830 Meyerside Drive

1830 Meyerside Drive

Mississauga, ON

Industrial
For Sale
300 Orenda Road

300 Orenda Road

Brampton, ON

Industrial
For Sale
1845 Gerrard St E

1845 Gerrard St E

Toronto, ON

Multifamily
For Sale
9160 Bayview Avenue

9160 Bayview Avenue

Richmond Hill , ON

Office
For Lease
2120 Dundas Street East

2120 Dundas Street East

Mississauga , ON

Retail
For Sale
1000 Central Parkway West

1000 Central Parkway West

Mississauga, ON

Land
For Sale
1100 Courtneypark Drive

1100 Courtneypark Drive

Mississauga, ON

Industrial
For Lease