Commercial real estate news releases from Avison Young
Quarterly and topical research insights to help your business gain competitive edge in commercial real estate.
Avison Young brokers sale of 13.2 acres of land for development of a 200-unit multifamily project in Manor, TX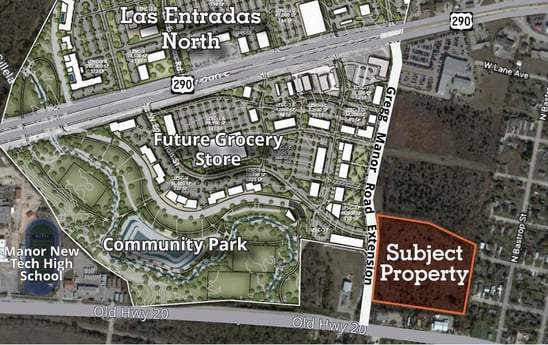 December 13, 2022
Austin, TX – Avison Young announced today it has brokered the sale of a 13.2-acre land parcel located at E Hwy 290 and Gregg Manor Road in Manor, TX. The site is planned for an approximately 200-unit multifamily project with up to 20,000 square feet (sf) of retail space.
Avison Young Executive Vice President John T. Baird, Principal Michael Kennedy and Vice President Sullivan Johnston of the Land Development team in the firm's Austin office, represented the seller, Las Entradas Development Corporation. The buyer, Maryland-based DD&B Construction, was represented by Gilles Ghez of DH Realty Partners.
The site is within Las Entradas, a 200-acre master-planned mixed-use development along Highway 290. Highlighting walkability and transit-oriented development, the community features a neighborhood commercial center, conference center, a 59-acre park, hike and bike trails, and an amphitheater bordered by the project's lake and Gilleland Creek.
"We are pleased to welcome DD&B Construction to Las Entradas. Its multifamily development will bring a much-needed addition of housing to the residents of Manor," said Pete Dwyer, President of Dwyer Realty and Las Entradas Development Corporation. "My partners and I look forward to seeing DD&B's development progress in the year ahead and how it will complement neighboring establishments within the Las Entradas community."
The Avison Young team worked closely with both the buyer and seller and their engineers and consultants, as well as the City of Manor, to understand the requirements and vision for the project. The team then created multiple development scenarios to illustrate the potential of the property and executed a multi-channel offering process to attract qualified prospects from across the country.
"The seller believed that this was an opportune time in the market to transact the property and provided the buyer time to undergo a rezone to permit multifamily development, viewing residential development on the site as a true value-add to the surrounding retail establishments, both existing and future," said Baird. "As growth continues eastward with corporate giants such as Samsung expanding their footprint in the Austin MSA, communities like Manor are seeing increased demand for housing and retail services."