Commercial real estate news releases from Avison Young
Quarterly and topical research insights to help your business gain competitive edge in commercial real estate.
Q1 2022 office investment up 25% against 10-year average, while occupier take-up slows following active last quarter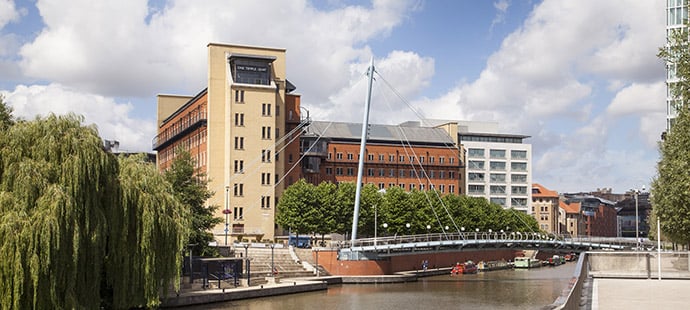 May 11, 2022
Avison Young releases quarterly analysis of regional office markets.
Avison Young has released its latest Big Nine office market update, covering the first quarter of 2022.
Occupier market
Following an extremely active Q4 2021, take-up reduced during Q1 2022, with a total of 1.1 million sq ft let across the Big Nine city centre markets. While the markets saw a 40% decrease from the previous quarter, which recorded figures far ahead of the long-term average, Q1 take-up fell just 17% below the 10-year quarterly average, with the 5-year quarterly rolling average changing by just 0.2%.
Bristol, Cardiff, and Newcastle were notable exceptions to the overall trend in quarterly activity. Bristol saw the highest take-up across the Big Nine, reaching 234,275 sq ft – which represents a 62% increase against the five-year average.
The amount of space on the market is still some 10% below the 10-year average, despite availability increasing by 4% in total during the quarter. Big Nine vacancy rates also showed a slight increase, moving from 8.1% at the end of Q4 2021 to 8.3% at the end of Q1.
Key statistics and highlights of Q1's occupier activity:
Key deals in Bristol's well-performing market included two lettings greater than 20,000 sq ft – the largest of which was 54,767 sq ft to Paymentsense at CEG's speculative development, EQ. Separately, at Halo, Finzels Reach, Deloitte leased 22,500 sq ft.
In Cardiff, city centre take-up exceeded the 5-year average by 37% after more than a twofold increase on the amount of space let in Q4 2021. Cardiff also saw the largest deal of the quarter across all Big Nine cities, with BT taking more than 65,000 sq ft at 3 Capital Quarter.
Accounting for a third of all Q1 take-up, the professional services sector was particularly active. Key deals included Deloitte's letting in Bristol, Shoosmiths' letting of 16,383 sq ft at Haymarket Square, Edinburgh, and Clifford Chance's 15,182 sq ft at The Lumen in Newcastle.
The TMT & Creative and Financial Services sectors were also significant sources of demand, accounting for 24% and 14% of take-up respectively.
There is currently 4.6 million sq ft of office development under construction across the Big Nine markets. Glasgow is the most active, with 1.1 million sq ft being built. Due to significant demand in the market, 97% of this has already been pre-let.
Headline rents saw an uptick: in Bristol, rents increased by over 10%, Newcastle's growth was also significant, with rents increasing by 5.8%.
Charles Toogood, Principal and Managing Director, National Offices Team at Avison Young, said:
"Demand for the best quality space has not eased over Q1. As pressure on headline rents continues, many Big Nine markets experienced rental growth with the average net effective rent increasing by 3% in only three months."
Investment market
During the first quarter of 2022, £755 million of office investment was seen across the total Big Nine regional office markets. This total reflects a 21% increase on the amount spent in Q4 2021 and a 25% uptick against the 10-year average.
Overseas investors dominated the markets – accounting for 74% of total volumes across just six deals – with three overseas deals completed in excess of £100 million.
Glasgow and Bristol were the primary locations for Big Nine investment this quarter, accounting for 28% and 25% of spend respectively, driven by the largest deals of the quarter. Meanwhile, Manchester and Liverpool saw yield compression, both moving down by 25 basis points.
With demand focused on the best quality assets, the yield gap between prime and secondary property continues to widen. According to the MSCI quarterly index, it was 280 basis points at the end of December, compared to 228 at the end of 2019.
Key statistics and highlights of Q1's investment activity:
The most significant deal of the quarter was the Spanish investment firm Pontegadea Group purchasing 177 Bothwell Street, Glasgow for circa £215 million, reflecting a desire for assets promoting occupier wellbeing.
In Bristol, US Investor Barings acquired the Soapworks offices scheme on Straight Street for £126 million, reflecting a net initial yield of 4%; while in Leeds, the White Rose Office Park was purchase by Belgian investor Immobel for £110 million, which reflected a net initial yield of 6.75%.
The MSCI monthly index has moved out slightly and ended March at 7.6%, compared to 7.5% at the end of 2020.
Mark Williams, Principal and Managing Director, Regional Investment Avison Young, said:
"Demand is increasingly focused on the best quality assets, with future proofed and well-located buildings consistently proving to be popular. Meeting net zero carbon investment criteria, promoting occupier well-being, and fulfilling expectations for positive rental growth are also a big draw, as we saw in the most significant deal of the quarter."
To read the full research update on Big Nine office markets (Birmingham, Bristol, Cardiff, Edinburgh, Glasgow, Leeds, Liverpool, Manchester and Newcastle), click here.