Commercial real estate news releases from Avison Young
Quarterly and topical research insights to help your business gain competitive edge in commercial real estate.
Avison Young supports launch of Exeter's first zero carbon hotel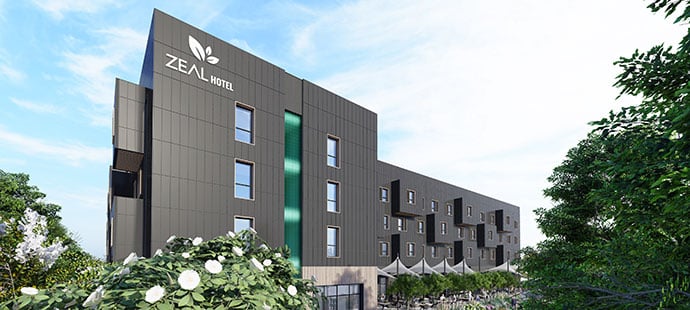 May 9, 2022
Following the undertaking of an initial feasibility study for a new net zero carbon hotel in Exeter Science Park, strategic real estate advisor Avison Young was instructed to carry out an operator selection process to identify a third-party management firm and negotiate the commercial terms of the preferred company on behalf of Zeal Hotels Ltd (Zeal).
Planning for Zeal Hotel Exeter at Exeter Science Park was submitted in mid-April. The hotel will comprise 142 bedrooms, including standard and executive rooms as well as apartments with kitchenettes. Flexible work areas will be integrated across the hotel and will include a café. There will also be a restaurant with theatre kitchen, and produce will be locally sourced locally.
Zeal is in the process of creating the UK's first net zero carbon hotel brand 'Zeal Hotels', geared towards low carbon construction and operation. Areas of focus for hotels under the brand will be decarbonising the supply chain, using local produce, using renewable energy sources and promoting ethical living. Zeal is specifically targeting net zero carbon, with the hotels seeking to reduce emissions rather than offset them.
The sustainable hotel aims to have a positive impact on the lives of the guests, the hotels' local communities, and the wider world. As such, it is closely aligned to a number of consumer trends that have been highlighted further by the Covid-19 pandemic, including sustainability, flexible working and wellness.
Richard Gaunt, Principal, Head of Consultancy, Hotels and Leisure, said:
"Zeal Hotels' proposed concept offers a distinct opportunity to create a midscale sustainability-led hotel in Exeter that adds real environmental and social value, aligning well with the city's growing profile as a STEMM center. With low carbon thinking at its core, the hotel will appeal to a wide range of companies at Exeter Science Park, Exeter Business Park, as well as a wide range of environmentally conscious leisure guests.
Avison Young's Hotels team is leading the way as advisors to aid clients in understanding how they can navigate towards a positive ESG agenda in a sector that has been slow to get to grips with a low carbon future. Zeal Hotels is a fantastic example of a pioneering brand that will help revolutionize the leisure and hospitality industry."
Tim Wheeldon, Managing Director, Zeal Hotels commented:
"The hospitality industry is behind other markets in terms of sustainable construction & we have embraced the challenge in designing a net zero carbon hotel. Avison Young has considerable knowledge and their expertise in this sector, as always, is invaluable".
The Zeal Hotel in Exeter will be the first of many and for more information on Zeal Hotels, click www.zealhotels.com