Commercial real estate news releases from Avison Young
Quarterly and topical research insights to help your business gain competitive edge in commercial real estate.
Five-year high for London office market investment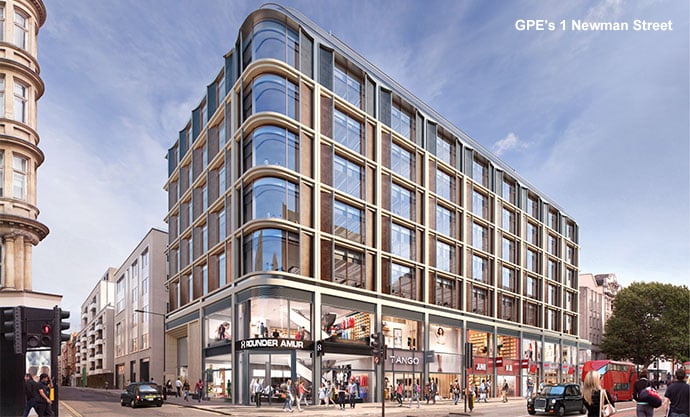 April 27, 2022
£5bn transacted in Q1 2022, according to Avison Young's Central London Office Analysis - the highest figure since 2018.
Building on the momentum gathered in the London office investment market throughout 2021, Avison Young's Central London Office Analysis has found that £5 billion was spent on assets over the first three months of the year. This was the largest amount transacted since Q3 2018 and represents a 40% increase against the long-term quarterly average and more than double the amount spent in the same quarter last year.
This stellar beginning to 2022 was underpinned by the completion of three individual transactions above the £500m mark, as Korea's National Pension Service acquired UBS' headquarters at 5 Broadgate, EC2, for more than £1.2 billion; Google bought Central St Giles, WC2, for an initial consideration of £762.5 million; and Ho Bee Land paid £718 million for 52-54 Lime Street, EC3.
In contrast, only a single transaction above that value completed in the entirety of 2021.
This substantial outlay from global heavyweights ensured that overseas buyers once again comprised a large proportion of quarterly investment – accounting for 74.2% of the total activity; with Far Eastern buyers alone responsible for almost half the total spend in Q1.
Key statistics and highlights of the investment market in Q1 2022:
Q1 2022 saw £5 billion transact, 40% ahead of the 10-year quarterly average and more than double the overall spend at this point last year.
The largest individual deal of the quarter was NPS' purchase of UBS' headquarters at 5 Broadgate, EC2, for £1.2 billion – the largest individual deal recorded since Lee Kum Kee's £1.3 billion purchase of 20 Fenchurch Street, EC3, in 2017.
Foreign buyers accounted for 74.2% of investment in Q4, with the largest purchase by a domestic operator coming in the shape of Oxford Properties' acquisition of Victoria House, WC1, for more than £420 million.
The City was the most active submarket for quarterly investment, attracting deals worth £2.69 billion, followed by the West End which transacted £1.24 billion.
Overseas investors continued to find London an appealing market, investing £3.7 billion, while investment from UK property companies more than doubled from the previous quarter's £474.1 million, to £1.02 billion.
Prime yields remained stable across Central London – these are 3.25% in the West End and 4.0% in the City.
Chris Gore, Principal, Central London Investment, Avison Young, said: "The increasing optimism that we saw across last year led to the best opening quarter since 2017 in terms of overall spend on London offices. However, in spite of this bumper start to the year it would be foolish not to sound a note of caution in the current macro environment. In particular, ongoing inflation and further interest rate rises could have a significant impact on investors considering development projects or who are in need of financing to compete at current pricing levels. That being said, the auspicious start to this year is set to be well-supported by other structural trends within the London office market, including the ongoing return to a 'new normal' as we travel both to offices and internationally with some regularity again, and we are confident in London's ongoing resilience."
Meanwhile, occupier activity in London's office market saw a solid start to 2022, with just over 2m sq ft let across the first three months of the year.
Although this is reflective of an 8.7% drop against the long-term average for Q1 letting volumes, it is also some 60% ahead of the amount of space let in the equivalent period of 2021. Putting this into context, it means that rolling 12-month office take-up in London has reached 9.5 million sq ft – the highest that figure has been since the year ending Q2 2020, which still encompassed pre-pandemic letting figures from 2019.
Overall letting volumes were bolstered by more than 130 deals measuring less than 50,000 sq ft completing during the three-month period – the largest number of completed transactions within this size band since the onset of the pandemic. This flurry of smaller deals underpinned a seventh consecutive quarter-on-quarter increase in the number of lettings agreed as fresh long-term plans on future occupational strategies continue to be formed by London's business community.
Key statistics and highlights of the occupier market in Q1 2022:
Having increased consistently across 2021, take-up in central London offices saw its first quarter-on-quarter decrease since the end of 2020 – with 2m sq ft let during the first three months of 2022. This represents a 34% downturn on the amount of space transacted in Q4 2021 and is 16% below the long-term average for quarterly letting volumes.
However, that take-up figure is some 60% ahead of the equivalent point in 2021, when the year started with only 1.3m sq ft let during the opening quarter.
Hogan Lovells' 266,000 sq ft pre-let at 18-20 Holborn Viaduct, EC1, was the only transaction above 100,000 sq ft to complete during Q1; and meant that professional services firms accounted for 24% of letting activity across the three-month period.
This put the professional sector in second place in terms of influencing the letting market – with financial operators out on top, accounting for 27% of activity. This was underpinned by Citigroup's agreement to take 94,500 sq ft at 40 Bank Street, E14.
There was a marginal uptick in total supply on the market, with the overall amount of available space in Central London now totalling 21.1 million sq ft. This meant that the vacancy rate has nudged up by 10 basis points to 7.2% - which, although ahead of pre-pandemic vacancy levels, is still below the mid-pandemic and mid-GFC peak vacancy levels of 7.5% and 8% respectively.
Stuart Commins, Principal, Occupier Advisory, Avison Young, said: "There is a pervading sense within London that more and more occupiers appreciate the important influence of the office environment when it comes to business performance, employee well-being and the retention or attraction of talent. As a result, the continued return of the London workforce has led to increased volumes of office requirements, reaching record levels in excess of 10 million sq ft by the end of Q1 2022."
"Now more than ever, occupiers are placing significant value on best-in-class building amenities and specifications, particularly those which help to support positive social and environmental impacts. Subsequently in Q1 2022, 9 out of the 10 largest deals were for new-build or grade-A spaces: precipitating a 1% increase in prime rental tone across London against Q4 2021."
The full Central London Office Analysis report is available to view here.