Commercial real estate news releases from Avison Young
Quarterly and topical research insights to help your business gain competitive edge in commercial real estate.
Avison Young Capital Markets team negotiates built to suit/sale-leaseback with Oak Street for a new $90 million manufacturing facility near Nashville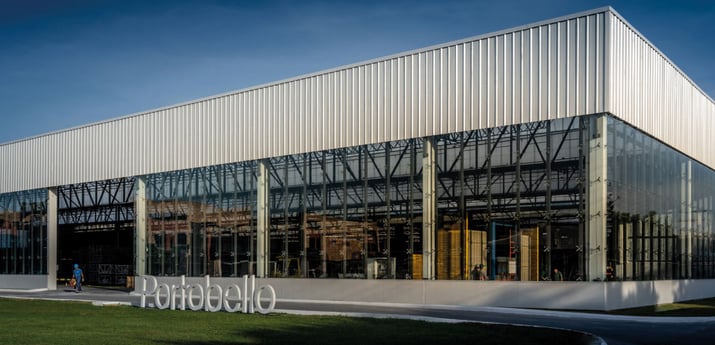 March 23, 2022
Portobello America is building an 965,000-SF facility to manufacture ceramic tiles and house its U.S. headquarters in Baxter, TN
BAXTER, TN — Avison Young's Capital Markets Group announced today that it has negotiated the build-to-suit, sale-leaseback financing of an 965,000-square-foot manufacturing facility in Baxter, TN for Portobello America.
Oak Street will fund the construction and purchase the $90 million facility, then lease it back to Portobello America. The company will use the facility to manufacture tiles as well as house its U.S. headquarters.
Portobello selected Timothy Hall, James Hanson and Tom Viscount, all Principals at Avison Young, to raise the capital to build the facility.
"We are very proud to have represented Portobello America in securing build-to-suit financing for this manufacturing plant, its first in the U.S.," Hall said. "This premier facility will not only be important to Portobello America but to the community and local economy as well."
Portobello Group, the largest tile manufacturer and distributor in Brazil, estimates the facility will create more than 200 local jobs and generate some $150 million in annual revenue, as soon as the full capacity is reached, which is expected to occur by 2026.
"We are excited to construct this world-class facility in an ideal location for us," said Luiz Felipe Brito, CEO of Portobello America. "We have assembled a top-notch team to expand our business across the United States, a strong and growing market for us. The future is very bright for Portobello and all the employees that we will hire here."
Portobello America purchased the land and sought capital for construction of the manufacturing facility. That construction began late last year and includes the main manufacturing, warehouse and office building, which will also contain the corporate headquarters and a showroom.
Oak Street bought the property and is funding construction of the new facility. Portobello will execute a long-term lease when construction is complete, which is expected in late 2022. The deal's term is 20 years.
"Oak Street seeks to develop relationships with best-in-class organizations to create opportunities that help our partners achieve their strategic and financial initiatives. We are extremely excited to form a long-term partnership with Portobello, a global manufacturing leader in a growing industry," said Guy Ponticiello, Managing Director of Oak Street.
"Portobello is a perfect reflection of the caliber of company we look to partner with — a highly respected international corporation with significant growth potential and led by smart, agile leadership" added Colleen Collins, Managing Director of Oak Street.
The 92-acre project site is situated on the south side of Interstate 40 within the city limits of Baxter, TN, about 70 miles east of Nashville. It is located in Putnam County, considered a national hotbed for ceramic tile manufacturing due to the region's vast natural supplies of clay and feldspar. The manufacturing plant will feature the latest "green" technologies to reduce the consumption of electricity, natural gas and water.
"We are exceptionally pleased to sign an agreement with Oak Street under terms that are favorable to all parties," said Ronei Gomes, Chief Financial and Investor Relations Officer of Portobello. "This will be a strong, enduring partnership that benefits both Portobello and Oak Street — as well as the Baxter, Tennessee community — for many years to come."
Oak Street Real Estate Capital
Oak Street Real Estate Capital is a diversified real estate investment firm. The firm was founded in 2009 and headquartered in Chicago, Ill. Oak Street offers a unique platform combining direct and indirect real estate strategies across two lines of business, its Net Lease platform and its Seeding and Strategic Capital platform. The Net Lease platform is focused on acquiring properties net-leased to investment grade and creditworthy tenants. Oak Street specializes in providing flexible capital solutions to a variety of organizations including corporations, healthcare systems, universities and government entities. Currently has more than USD 15 billion in assets under management.
Oak Street Real Estate Capital is part of Blue Owl Capital Inc. ("Blue Owl") (NYSE: OWL). Blue Owl is a leading provider of capital solutions to the private market ecosystem, with over USD 80 billion in assets under management. To learn more, visit www.blueowl.com.
For more information:
About Portobello America
Portobello America, a Portobello Group company, creates, produces and distributes complete and competitive ceramic tile solutions focused on the U.S. market. We believe that design can transform the way people feel by shaping the environments in which we live. This idea is the essence of Portobello America. Our business model is an integrated one. With expertise in retail and logistics, as well as being founded on design and innovation, our company is uniquely positioned to provide comprehensive support to our partners. To learn more, visit www.portobelloamerica.com.
About Portobello Group
Headquarted in Tijucas, Santa Catarina, Brazil, Portobello Group is the largest company in the ceramic tile segment in Brazil, with the most extensive retail network in the country. The trademark is a national leader and global player in the industry. The company is listed in the São Paulo Stock Exchange (B3), under the ticker PTBL3. The group has a multi-channel offering, with operations structured in four Business Units – Portobello, with distribution to Home centers, Projects and Exporting to more than 60 countries, Portobello Shop, its retail trademark with more than 130 stores throughout Brazil, Portobello America, pioneer in the group's internationalization, headquarted in the United States, and Pointer, trademark with democratic design established in Brazil's northeast. With a very sustainable production process, respecting the environment and the usage of natural resources, Portobello serves countries in five continents, connecting with clients and architecture professionals from all over the world. To learn more, visit www.portobello.com.br.
About Avison Young Capital Markets Group
The Avison Young Capital Markets Group works in partnership with clients to provide high-quality, data-supported, integrated services that guide the strategic and financial objectives of our clients. The Avison Young Capital Markets Group includes senior professionals in the United States, Europe and every major North American market, working seamlessly and collaboratively across borders to deliver real estate solutions for our clients. We provide a full range of real estate services to local, regional, national and international clients and we have a proven track record of exceeding client expectations.
Avison Young is a 2021 winner of the Canada's Best Managed Companies Platinum Club designation, having retained its Best Managed designation for 10 consecutive years.
For more information:
Timothy Hall, Principal, Avison Young, Capital Markets: +1.202.249.6291
James Hanson, Principal, Avison Young, Capital Markets: +1.312.273.4506
Tom Viscount, Principal, Avison Young, Capital Markets: +1.954.903.1810