Commercial real estate news releases from Avison Young
Quarterly and topical research insights to help your business gain competitive edge in commercial real estate.
Avison Young advised Develia in a disposal of Sky Tower to Adventum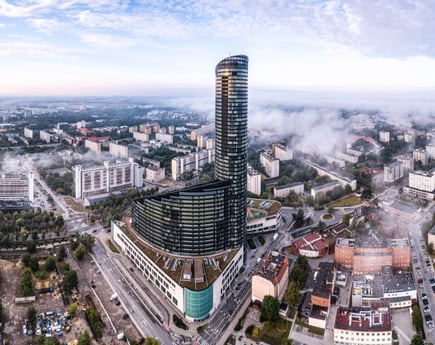 March 17, 2022
Avison Young advised Develia in a disposal of Sky Tower to Adventum
Develia, Polish real estate property development group executing commercial and residential investment projects in major cities in Poland, has disposed all of its shares (79.55%) in Sky Tower project. The purchaser is Adventum Group, a group of boutique investment fund management companies focused on Central European real estate investments. The price of the transaction was established at the level of EUR 84.27 million.
Sky Tower is the highest building in Wroclaw and one of the highest in Poland. It is a multifunctional complex comprising office, retail and residential functions. The property, erected in 2012 by DEVELIA (formerly LC Corp), is located in the heart of the city with superb public and private transport accessibility. It offers office space of almost 30,000 square metres GLA and retail and entertainment space of almost 24,000 square metres GLA. There are 1,062 parking places available.
Develia declares further development investments.
This is the third acquisition of Penta Fund, managed by Adventum Group. With this purchase, Adventum now has 7 assets and in total 154,000 sqm of office space under management in Poland.
The seller was represented by Avison Young throughout the disposal process.