null - Commercial Real Estate News Releases | Avison Young News
Commercial real estate news releases from Avison Young
Quarterly and topical research insights to help your business gain competitive edge in commercial real estate.
Q4 Big Nine activity reaches the highest level in three years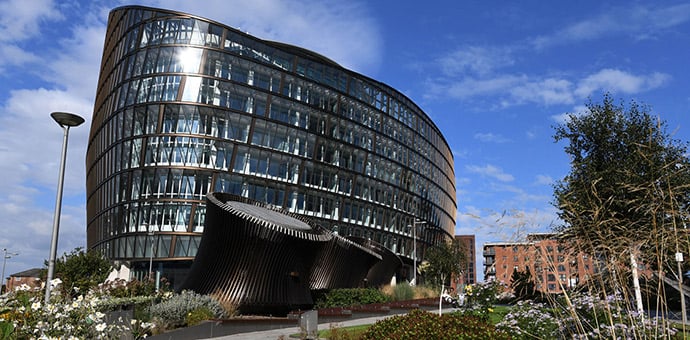 January 27, 2022
Avison Young releases year-in-review analysis of regional office markets.
Avison Young has released its latest Big Nine office market update, covering the final quarter of 2021 and an analysis of the full year's figures.
Occupier market
A strong finish to the year brought total take-up for 2021 to 8.1 million sq ft, 5% down on the ten-year average but 42% up on 2020. The second half of the year saw significant demand for grade A space, as some occupiers reduced their space requirements but committed to upgrading the quality of their accommodation, driving demand for new or refurbished space. As a result, asking rents on prime space have surpassed £40 psf in some cities. However, we are seeing a two-tier market develop, as vacancy rates on secondary stock increases.
Key statistics and highlights of Q4's occupier activity:
Q4 take-up was the highest quarterly total for more than three years, led by the second largest ever deal across the Big Nine - HM Revenue and Customs (HMRC) took 465,000 sq ft at Pilgrim's Quarter in Newcastle.
There were several other large lettings across the cities, with commitments from Roku in Manchester and Fanduel in Edinburgh.
Activity was led by professional and business services and the public sector. The TMT sector also performed well, driven largely by IT and software.
Newcastle was the stand-out performer, followed by Leeds.
The level of CAT A+ provision from landlords continues to increase throughout the Big Nine markets. Landlords are also looking to reduce voids and rent-free periods and increase the potential for occupier retention by offering additional customer care, collaboration space and wellbeing facilities.
Availability has begun to taper and now sits at 11.9 million sq ft, much closer to its cyclical low of 8.1 million sq ft in Q1 2020 than the 18.3 million sq ft on the market during the aftermath of the GFC.
With fewer recent starts and a number of completions at the end of last year, development in the pipeline has fallen to 4 million sq ft, half of which remains available.
Headline rents currently sit at an average of £32.67 psf, a 2.3% increase over the past 12 months.
Charles Toogood, Principal and Managing Director, National Offices Team at Avison Young, said:
"Most cities are forecast to experience strong economic and employment growth during 2022. When coupled with a withdrawal of Plan B Covid restrictions and pent-up demand evident in the markets, we expect the positive sentiment generated over the past six months to continue.
With an increase in space coming to the market, a greater number of landlords are undertaking refurbishments to meet occupiers' demand for quality buildings and the need to meet their carbon reduction commitments. Others will be looking at repositioning offices to other uses such as residential and education."
Investment market
Volumes for the Big Nine office markets recovered to £2.6 billion during 2021, compared to £1.7 billion in 2020 and 8% up on the ten-year average.
Volumes were led by Manchester at £860 million, its highest total since 2018. Birmingham and Bristol accounted for volumes of £325 million and £367 million as a number of high-profile assets changed hands.
Prime yields for most cities stayed the same over the quarter, at an average of 5.36%. According to the MSCI monthly index, average equivalent yields for all regional offices reached a cyclical low prior to the pandemic of 6.9% in January 2020 and moved out to 7.5% by the end of the year. However, there has been no movement over the past 12 months.
With demand focused on the best quality assets and secondary property not selling as strongly as pre-pandemic, the yield gap between prime and secondary property continues to widen. According to the MSCI quarterly index, it was 279 basis points at the end of September, compared to 228 at the end of 2019.
Key statistics and highlights of Q4's investment activity:
While the number of deals slowed towards the end of the year, figures were boosted by the largest deal of the year: owner-occupier NatWest bought £292 million One Hardman Boulevard, Manchester.
Q4 saw the strongest activity from UK institutions for two years, headlined by two grade A deals: Canada Assurance bought two buildings in Birkenhead for £75 million and CBRE Global Investors bought Exchange Place One in Edinburgh for £58.5 million.
Against recent performance, domestic investment has dominated the market this year, accounting for 72% of activity. UK property companies have been the most acquisitive, accounting for 43% of total volumes.
Mark Williams, Principal and Managing Director, Regional Investment Avison Young, said:
"Well-located, good quality assets with a strong tenant base continue to receive good levels of interest, particularly those that meet net zero carbon commitments and fulfil expectations for positive rental growth."
Beyond the Data:
To read the full research update on Big Nine office markets (Birmingham, Bristol, Cardiff, Edinburgh, Glasgow, Leeds, Liverpool, Manchester and Newcastle), click here.