Commercial real estate news releases from Avison Young
Quarterly and topical research insights to help your business gain competitive edge in commercial real estate.
Avison Young berät FLE: Neuer Hauptsitz für Dentalunternehmen in Düsseldorf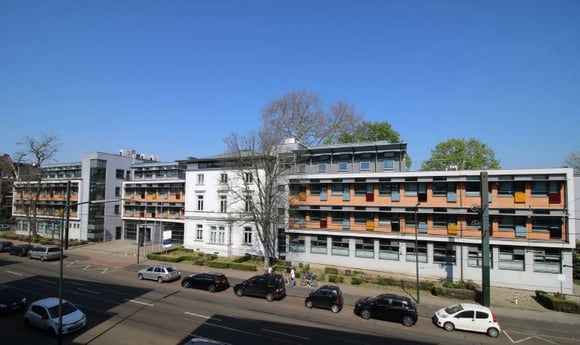 October 21, 2021
Mit dem Abschluss hat Avison Young den größten Teil des Objekts – knapp 2.200 m² – vermietet und vermarktet intensiv den noch vorhandenen Leerstand von 1.300 m². Nach enger Zusammenarbeit mit dem Eigentümer aus diversen anderen Projekten gewann das Maklerunternehmen den Leadmaklerauftrag.
Die Gesamtfläche von ca. 4.400 m² basiert auf einer historischen Villa aus dem Jahr 1913. 2002 wurde diese durch Erweiterungen von Neubauten verbunden und spiegelt den historischen Kern der Altstadt Benrath sowie die zunehmenden modernen Veränderungen der Umgebung wider. Für den neuen Mieter werden die Flächen zur neuen Hauptzentrale, inklusive Vertriebsbüro und Forschungslabor. Das Objekt verfügt über einen einladenden Innenhof, der beispielsweise als Eventfläche genutzt werden kann. Diese Option, die parkähnliche Anlage und die Dachterrasse mit Ausblick auf den Rhein überzeugten schließlich die Mieterseite.
Zudem zeichnet sich Benrath als gehobener Stadtteil im Süden Düsseldorfs durch seine repräsentative Lage in Rheinnähe aus. In direkter Umgebung des Objekts befinden sich zudem ein vielfältiges Nahversorgungsangebot sowie der weitläufige historische Schlosspark Benrath. Geprägt von Natur, Historie und Kultur wächst der Bedarf an modernen und hochwertigen Büroflächen, die von der ausgebauten Infrastruktur profitieren.
Johann Mikhof, Director Office Leasing bei Avison Young, setzte bei der Beratung den Menschen in den Mittelpunkt: "Das Objekt bringt eine große Individualität mit, mit der wir den Bedürfnissen unseres Kunden nachkommen konnten. Besonders die Dachterrasse sowie der großzügige Innenhof können für Mitarbeiter:innen und Kunden:innen zu einem Ort des Zusammenkommens werden. Deshalb ist das Objekt mit angenehmer Atmosphäre und zentraler Lage die perfekte Wahl für den Mieter. Weitere Mietinteressenten haben die Möglichkeit, die Flächen nach ihren Wünschen anpassen und sich so vor Ort von den Vorzügen der Benrather Umgebung überzeugen zu lassen."
Nicolai Baumann, Principal & Managing Director, Country Manager Avison Young Germany, gratuliert und betont zudem: "Dank der Beratung unseres Teams und auch der Attraktivität des Objekts hat sich schnell der passende Mieter gefunden, der vor allem das lebenswerte Arbeitsumfeld und die Nähe zum Grün des Schlossparks schätzt. Mit dem Gewinn des Mieters hat unser Beratungsteam unter Johann Mikhof eine hervorragende Leistung erbracht. Unsere Experten wissen, wie Projekte im Ruhrgebiet, von Düsseldorf bis hin zu Raum Aachen, zusammenhängend und überregional verstanden und vermarktet werden müssen. Düsseldorf selbst bleibt als bekannte Mode- und Kunststadt ein wichtiger Standort für Unternehmen und Menschen – nicht nur innerhalb des Rheinlands."
Bildunterschrift: Avison Young betreut Eigentümer FLE erfolgreich bei der Vermietung des Objektes in Düsseldorf-Benrath. (Fotonachweis Avison Young)