Commercial real estate news releases from Avison Young
Quarterly and topical research insights to help your business gain competitive edge in commercial real estate.
Avison Young vermittelt neun neue Mieter am Alten Teichweg: Barmbek-Süd ist als Bürostandort weiter im Aufwind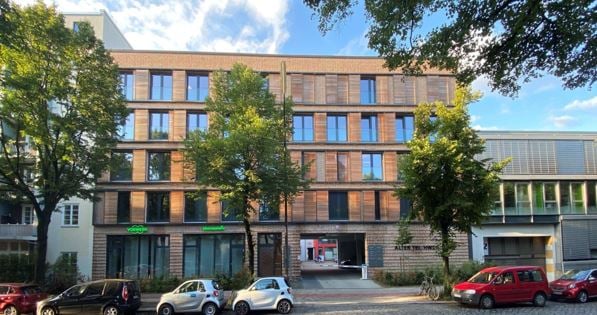 August 19, 2021
Hamburg, 18.08.2021. Avison Young hat am aufstrebenden Bürostandort Barmbek, im exklusiven Auftrag der Bauherren, die Vermietung eines kompletten Neubaus am Alten Teichweg erfolgreich abgeschlossen. Insgesamt beziehen nun neun Mieter die Gesamtfläche von 1.650 Quadratmetern. Neben den sieben Mietern des Neubaus, konnten zusätzlich zum Abschluss zwei weitere freie Flächen im dahinterliegenden Bestandsgebäude vermietet werden.
Die letzte verfügbare Einheit des 2020 errichteten Büroneubaus am Alten Teichweg in Hamburg-Barmbek ist nun offiziell vermietet. Durch die erfolgreiche Vermittlungsleistung von Avison Young wurde im Alleinvermietungsauftrag eine Gesamtfläche von 1.650 Quadratmetern an neun Mieter vermittelt. Dazu gehören auch zwei weitere Flächen im angrenzenden Hinterhaus, direkt am Osterbekkanal. Da sich das Vorderhaus zum Vermietungsbeginn noch im Rohbau befand, konnten individuelle Bedürfnisse der Mieter berücksichtigt werden.
"Wir freuen uns sehr, dass wir den Mietern mit speziellen Anliegen zu einer unkomplizierten Vermittlung verhelfen konnten. Neben der Optik überzeugte die neuen Mieter die Möglichkeit zum individuellen Ausbau, der keine Wünsche offen lässt", betont Robin Sönnichsen, Senior Consultant bei Avison Young und mitverantwortlich für den Abschluss der Vermietung.
Der Eigentümer hat die Flächen entsprechend ausgebaut und dabei die speziellen Raumaufteilungs- und Gestaltungswünsche umgesetzt. Auch bei der Koordination der verschiedenen Gewerke am Bau war Avison Young beratend tätig.
Der Bürostandort Alter Teichweg, der direkt am Osterbekkanal liegt, ist ein schönes Beispiel, wie aus einer veralteten und unwirtschaftlichen Gebäudesubstanz ein neuer lebhafter und moderner Standort entstehen kann. Der Neubau entstand mit viel Liebe zum Detail und gliedert sich sehr präsent in die umliegende Architektur ein. Barmbek verzeichnet derzeit einen sehr niedrigen Büroleerstand mit Mietpreisen weit unter dem Gesamtdurchschnitt.
"Die Lage und der Stil der Gebäude stehen für Hamburgs moderne Immobilienwelt", ergänzt Jochen Völckers, Principal, Geschäftsführer sowie Standortleiter von Avison Young in Hamburg. "Es ist eine große Stärke unseres erfahrenen Teams, Gewerbeimmobilien in Stadtteillagen zu vermarkten. Dazu gehört nicht nur eine umfassende Immobilienberatung, sondern ganz besonders die jahrelange Nähe zu den lokalen Märkten sowie das Wissen um die individuellen Bedürfnisse der Nutzerinnen und Nutzer."
Fotonachweis: Avison Young - Im Neubau beziehen die Mieter eine Gesamtfläche von mehr als 1.650 Quadratmeter.