Commercial real estate news releases from Avison Young
Quarterly and topical research insights to help your business gain competitive edge in commercial real estate.
Avison Young bezieht neue Flächen im Frankfurter Park Tower, um sich für Wachstumskurs auszurichten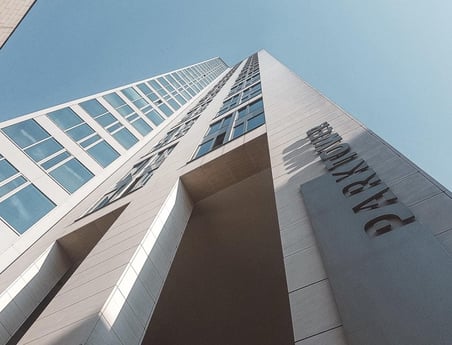 August 17, 2021
Das global tätige, partnergeführte Immobilienberatungs- unternehmen Avison Young vergrößert seine Frankfurter Präsenz mit dem Umzug der Niederlassung innerhalb der Metropole. Die neuen Büroräume auf knapp 700 Quadratmetern befinden sich in zentraler Lage in einem Frankfurter Landmark: dem Park Tower. Der 115 Meter hohe Büroturm liegt direkt an der Alten Oper an der Bockenheimer Anlage und bietet eine ideal-zentrale Infrastruktur.
"In unseren neuen Flächen werden wir unseren Mitarbeitern und Kunden zukünftig moderne und flexible Arbeitsplatzkonzepte zur Verfügung stellen können: Kollaborationsflächen für Projektarbeiten, ein partielles Desksharing sowie ein modernes Möblierungskonzept versetzen uns in die bestmögliche Lage, Herausforderungen flexibel und kurzfristig begegnen zu können", eröffnet Mehdi Patrick Riahy, Managing Director & Head of Capital Markets Germany sowie Leiter des Frankfurter Büros, den neuen Standort.
Avison Young war seit 2015 in Frankfurt auf gut 500 Quadratmetern im k26, einem Bürohochaus in der Kaiserstraße 26 in der Frankfurter Innenstadt ansässig. Nun vergrößert sich das Unternehmen unweit des bisherigen Standortes im stadtbekannten Park Tower: Die Bürofläche der Frankfurter Niederlassung steigt mit dem Umzug um nahezu 40 Prozent. Das Unternehmen antizipiert damit die neuen Bedürfnisse an "New Work" und stärkt gleichzeitig signifikant seine Präsenz am Standort.
"Im Zuge des Umzugs haben wir unsere Räumlichkeiten bewusst vergrößert, um neue Top-Talente für unsere Vision und unsere Werte zu begeistern. Wir setzen auf ein Konzept, das den Menschen in den Fokus rückt, alle Bedürfnisse, Arbeitsweisen und Persönlichkeiten anspricht und präsentiert, wie ein optimales Arbeitsumfeld aussehen kann. Damit setzen wir nicht nur ein klares Zeichen für den Standort Frankfurt, sondern auch für unsere Expansionsstrategie." so Riahy weiter.
Avison Young festigt Zukunftsstrategie
Avison Young Deutschland plant für die kommenden Monate, die Geschäftsbereiche und die Teams an den Standorten strategisch auszubauen. Das Unternehmen begegnet damit den sich verändernden Bedürfnissen des deutschen Gewerbeimmobilien- und Investment-Management-Marktes. Investoren und Unternehmen suchen mehr denn je nach neuen, flexiblen Möglichkeiten, um zukunftsgerichtete Entscheidungen zu treffen.
"Wir freuen uns, mit dem neuen Standort ein weiteres Kapitel in Frankfurt aufschlagen zu können. Zum einen hat das Team in Frankfurt mit großen Partnern, wie jüngst mit Beko Grundig Deutschland, tolle Erfolge erzielt, die unser Wachstum geprägt haben. Zum anderen ist Frankfurt als zentrale Metropole ein wichtiger Bestandteil unserer bundesweiten und europaweiten Strategie", ergänzt Nicolai Baumann, Country Manager Germany und Mitglied des European Executive Committee von Avison Young, und gratuliert dem Team. "Mehdi Riahy und sein Team reden nicht nur von modernen Arbeitswelten, sondern zeigen, wie wir sie auch leben können. Die Standorterweiterung zeigt genau, wie sich das Team auf die nächsten Schritte zum Wachstum vorbereitet und zukunftsgerichtet denkt und handelt."
Postalisch und für Besuche ist Avison Young in Frankfurt ab sofort erreichbar unter:
Avison Young
Park Tower
Bockenheimer Anlage 44
60322 Frankfurt
Telefon: +49 69 962 443-0
Alle Mitarbeiterinnen und Mitarbeiter des Unternehmens sind zudem wie gewohnt digital und per Telefon erreichbar.
Bild: Der Park Tower im Financial District ist ab sofort der neue Sitz von Avison Young in Frankfurt. (Fotonachweis: Avison Young)