AY Industrial Capital Markets Impacts and Opportunities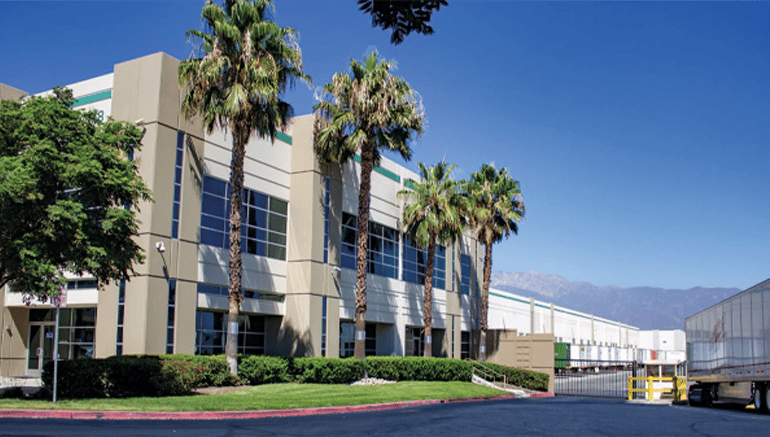 18 juin 2021
ESG Initiatives & the Importance within the Industrial Real Estate Sector
ESG practices are now an integral component of the corporate ethos, and a company's real estate functionality is increasingly becoming a significant part of that ESG strategy. From building design, employee wellness, sustainability and infrastructure – the industrial real estate community has made important strides over the years to create conditions that support and advance ESG initiatives. In this newsletter we look at the role industrial assets play in the ESG ecosphere, and as always, please reach out to me with any comments or questions.
Best,


Erik Foster
Principal
Head of Industrial Capital Markets
Have a minute? Please take our short survey!
ESG Initiatives & the Importance within the Industrial Real Estate Sector
ESG practices have become an integral component of many commercial real estate businesses as companies focus on positively influencing the lifecycle of assets, creating a healthy employee environment and leaving a positive environmental and corporate footprint. There is a growing movement to invest in assets based on ESG performance levels and both a keen awareness and commitment that these initiatives can have a lasting impact on investment values and long-term returns.
The most recent biennial Global Sustainable Investment Review (2018) showed there were $12 trillion in ESG-evaluated assets under management in the U.S. and $30.7 trillion worldwide. This was a 34% increase from the previous report. (The 2020 report is expected to be released later in 2021).
In recent years, the ESG goals for many companies have expanded, creating a more measurable framework for evaluating performance. While the commercial office sector receives considerable attention in the ESG area, there is significant activity in the industrial ecosphere. As the U.S. industrial real estate sector continues its rapid growth cycle, it is timely to look at how developers, owners, investors and tenants are influencing change in the environmental, social and governance areas.
ESG covers many areas, with many efforts being implemented across the built environment, from conception to construction to demolition and a new cycle of development. Throughout these cycles, there are many touchpoints were ESG programs should be considered -- from planning and developing for LEED certification to evaluating how water usage, runoff and rainwater storage can reduce consumption levels and boost a building's environmental footprint. LEED provides a framework for health, highly efficient, and cost-saving green buildings and has become the norm for many high quality, institutionally designed buildings.
Avison Young has been actively engaged in tracking ESG initiatives, both from a corporate level and from the vantage point of tenants, developers, investors and others involved in commercial real estate. Here's an overview of some key initiatives.
LEED a Top Priority for Many Developers
The development, planning and construction cycles are critical times when incorporating ESG measures can provide significant benefits. By planning for LEED certification or the more expansive WELL Building Standard, for example, the architectural and development team can collaborate to ensure that costly structural changes are planned in advance. While some adaptations may require a higher upfront cost, those expenses often provide a measurable payback over time, both financially and when viewed from the environmental perspective.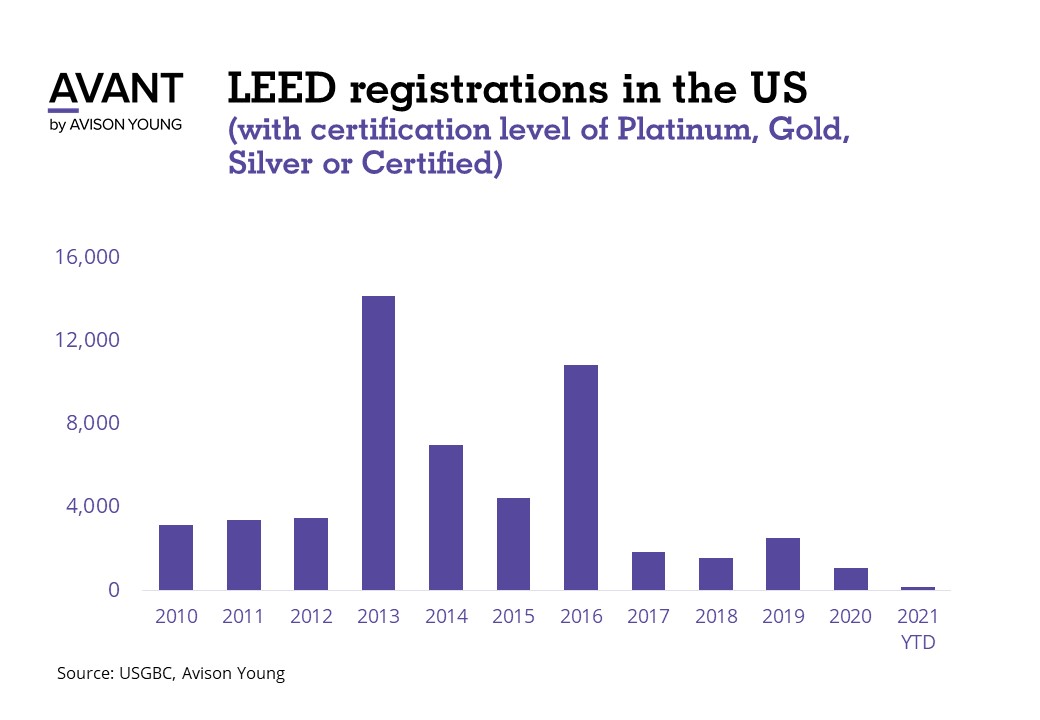 The WELL Building Standard focuses on building design and management that enhances employee health and quality of life in the work environment. Projects are evaluated over a three-day period while the building is in operation, using stringent performance-based assessments. Prologis, for example, received the Well Certified™ Gold for its logistics project DC5 in Prologis Park Tilburg, Netherlands in 2019. It was the first fully fitted logistics project worldwide to receive this certification.
A review of several ESG efforts in the industrial sector show a variety of approaches. One common thread on the development side is to design buildings to environmental standards that support corporate tenant requirements and support improved efficiencies. This approach will go a long way in creating a strong infrastructure that will not only meet tenant demand, but keep investors, lenders and other stakeholders happy.
Duke Realty, a leading owner, developer and manager of industrial properties, is pursuing 100% LEED certification for all new buildings, for example, as well as the use of energy efficient lighting across 87% of its portfolio. The industrial REIT, which owns and builds facilities up to 1.2+ million square feet, has also issued two green bonds totaling $850 million for eligible green projects, the first of its kind in the U.S. by an industrial REIT.
The firm also uses low-impact development and green infrastructure to recreate the natural movement of water, reduce runoff and store rainwater for irrigation. New building sites recycle or salvage at least 75% of debris. The company also supports tenants in recycling on-site materials.
Global industrial firm Prologis, which owns or has interests in 990 million square feet of logistics space in 19 countries, recently released its 2020 Sustainability Report, noting that 100% of new development and redevelopment projects globally will be constructed to meet sustainable building certifications. Prologis also installed 108 million square feet of LED lighting in various properties; is on track to include LED lighting in all properties by 2024; and installed 40 megawatts of additional solar rooftop capacity in its portfolio.
CenterPoint, a national industrial developer and operator, is also focusing on LEED requirements and announced that 6.7 million square feet of completed and pipeline projects (across 15 projects) have LEED certification standards. The company is also adding reflective/cool roofs on nearly half of its portfolio, as well as solar ready roofs on new West Coast developments. The firm also incorporates ESG evaluations into its investment reviews during the acquisition process, looking at climate related risks for land and buildings.
Site Drainage and Water Usage
First Industrial also has extensive energy and sustainability protocols across its 63 million square feet portfolio, including water conservation through storm water management, irrigation, updated fixtures and drought-resistant landscaping. This includes 5.4 million square feet of new developments in Southern California that were built to CalGreen building code standards from 2010-2019. The firm also integrates locally sourced and recycled materials when available, including reusing excavated materials or repurposing them.
These types of approaches are also being incorporated into corporate build-to-suit projects that are designed to reflect a business' environmental commitment. Many of today's global manufacturing and food industry occupiers are looking for facilities designed to meet LEED certification standards and have a higher level of customized to include features such as renewable energy, exterior sun shades to moderate heat in the building, and natural landscaping and bio swales to filter storm water.
Avison Young ESG and Nature Based Solutions
Avison Young's ESG leaders recently convened a panel discussion on the importance of the built environment in protecting ecosystems and enhancing biodiversity. Nature-based Solutions (NbS) is a formal approach concerning actions to protect, manage and restore ecosystems for human wellbeing and biodiversity benefits. While ESG encapsulates a broad spectrum of initiatives, it narrows in on areas like climate adaption services, ecosystem-based disaster risk reduction as well as natural and green infrastructure. One key highlight from that discussion was that 40% of human contributed carbon emissions in the U.S. can be tied back to residential and commercial buildings. This reinforces the importance of ESG initiatives -- and creates a tremendous opportunity to focus on the built environment and ways to decrease outputs for the benefit of the environment. For more details, see the recent
Avison Young blog
.
Sources: Bisnow, CenterPoint, Duke Realty, First Industrial, Prologis
Erik Foster, Principal
Head of Industrial Capital Markets
312.273.9486
[email protected]