Sightlines
Safely returning to workplaces: Avison Young collaborates with Cleveland Clinic on Return to Office strategy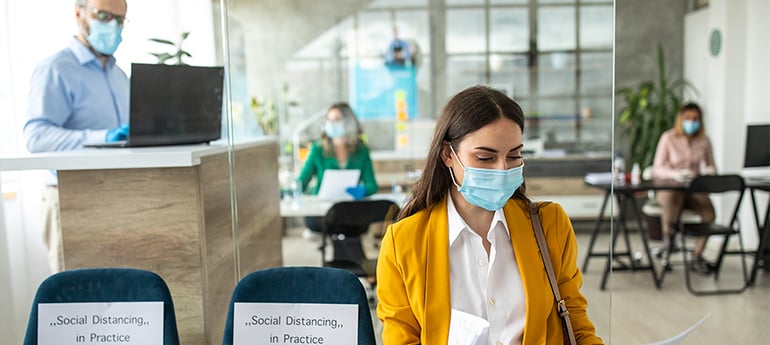 août 3, 2020
Work, as we know it, is changing. Prior to the pandemic, a more flexible approach to workplace strategies had been on the rise. Those trends have now been accelerated as it has proven both practical and feasible to work remotely. The future of work is likely to be more flexible, with a combination of time spent in offices, working near home and working from home.
The office isn't dead. It's just being rethought. In fact, in an April Gallup poll, 41% of U.S. workers indicated to Gallup that they would like to eventually return to their workplace. The value of being part of an organization is in interacting with colleagues and having those spontaneous interactions and conversations. That's how company cultures are reinforced, how ideas get exchanged.
How do you navigate a more flexible model of working and return people safely to workplaces? Avison Young has collaborated with Cleveland Clinic, ranked the #2 hospital in the country by U.S. News & World Report, with outposts in Canada, Abu Dhabi and, in 2021, London, on our return to office strategies and protocols.
Our latest Return to Office guidance, in consultation with the Cleveland Clinic, is based on the best practices of HR, medicine and real estate. It prioritizes healthy work environments that promote physical and mental wellness, so that as people are ready to come back to offices, they can do so safely and successfully.
The spread of COVID-19 and the containment policies being introduced are changing rapidly. While information included is current as of the date written, the views expressed herein are subject to change and may not reflect the latest opinion of Avison Young. Like all of you, Avison Young relies on government and related sources for information on the COVID-19 outbreak. We have provided links to some of these sources, which provide regularly updated information on the COVID-19 outbreak. The content provided herein is not intended as investment, tax, financial or legal advice and should not be relied on as such.