Sightlines
State of flex: considerations for occupiers, operators and owners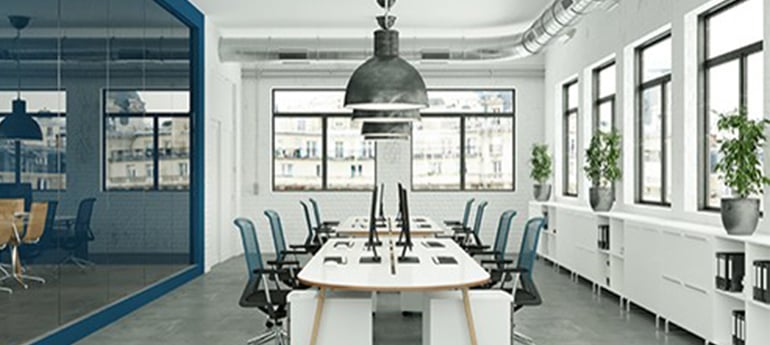 mars 26, 2020
While the global response to the COVID-19 outbreak evolves daily, one thing is already clear: this will forever change the way we work. The current crisis comes at what was already one of the most disruptive periods for the commercial real estate (CRE) office sector. The flexible office economy has grown dramatically over the past decade, with expansion and innovation accelerating in the past 3-5 years across the occupier, operator and institutional owner communities. Flexible office space now is a driving force across major office markets around the world and continues to gain steam among enterprise occupiers. The sector has transformed the "traditional" office industry by bringing a heightened expectation for customer experience, hospitality and lease term flexibility than historically offered to the market.
Navigating immediate priorities: supporting your workforce
As the impact of COVID-19 spreads across the globe, many people are engaging in a remote/work from home strategy for the first time. Regular office workers are joining the ranks of freelancers, entrepreneurs and startups (and some cutting-edge enterprise occupiers) who previously dominated the world of flexible working – and many are struggling to adjust to what we consider to be a new normal within the sector. Many employees are dealing with a remote working schedule for the first time, while also likely dealing with personal, emotional and potential financial stress during this period. The critical thing in this time of uncertainty is to remain calm and take care of your employees first and foremost. There are more than enough blogs promoting an efficient and productive remote workforce, but it may be helpful to tap into a resource from the Experience Management professionals at Qualtrics, who have made their Remote Work Pulse Product available for free during this time. Given the fluidity of the situation, it is still too early to be definitive about the impact COVID-19 will have on the flexible office landscape, but there are some current trends that we expect to impact the sector in the months ahead.
Short-term impact (the next 6 months)
Occupiers: As work from home (WFH) becomes the new norm
WFH – some employees will love it, some will hate it, and there will be a large number that will come out of this period asking their employer to provide a hybrid model in terms of their standard office set up (fixed, flex and/or WFH).
Sole proprietors or small teams who are existing members of flexible locations are likely to attempt to cancel and/or freeze their membership for the next 30-60 days.
Large occupiers will begin to rethink their portfolio management strategy to include or increase their flexible office allocation.
Operators: Survival, stability and growth considerations
Open locations operating with unmanned, skeleton crews and limited hospitality experience.
Operators large and small have already started engaging their landlords seeking rent relief during this difficult period. Our own Giovanni Palavicini, in conjunction with GCUC, gave a presentation on this subject recently.
Due to the financial strain of the current WFH mandates in most major markets, existing operators will fall into the following categories – survival, stability and growth – coming out of this period.
Added competition from the sublease market could further drive discounts on quoted rates.
Institutional Owners: Near-term impacts related to temporary vacancy
To allow existing flexible operators the ability to survive, restructuring of existing lease agreements will be contemplated in the coming months and any new, pending leases/management agreements will be put on hold.
Many operators will give back existing locations. Owners will be seeking advice on how to keep the cash flow rolling. And the structure of these operations will vary.
Traditional/long-term tenants in their portfolio will begin seeking rent relief in various forms and pending leases will likely pause until the economic outlook is clearer.
COVID-19-related legal issues to business continuity/interruption and force majeure lease clauses – new litigation will form the basis for future pandemic situations and revised lease terms around business disruption.
Building operations and decisions related to temporary vacancy due to government-mandated quarantines will have a near-term impact on asset-level operational activities.
According to Ben Wright, CEO of Upsuite, the coworking flexible office industry should prepare for 8 to 12 weeks of challenging times in North America, followed by a "new normal," with a focus on cleanliness to fight the virus. Ben noted: "We've been speaking with our partners, such as David Wong, CEO of Booqed, in Hong Kong and Shanghai, China, who shared that there were 1-2 weeks of panic as lockdown protocols to combat coronavirus were enforced. Slowly thereafter, Asia has seen a return of demand for flexible offices, with employees coming back to the office 8-12 weeks after the initial lockdown. We are also hearing that even employees who are returning to flexible offices are doing so with dramatically increased cleaning protocols in place (including handwashing stations at all entrances and wearing masks), and reduced kitchen and other services. This is definitely pointing to a 'new normal' for the flex office industry, where cleanliness is an absolute requirement to be in business."
There are many in the CRE space who predict a recession as the downfall of the flexible office economy as we know it. However, traditional leasing is going to be severely impacted as well and we see the occupier community's appetite for flexible leasing continue to increase. What we do anticipate is a continued push from demand users to engage in digital/online sources to satisfy their flexible requirements. Our current circumstances will likely lead to an accelerated interest in core and flex portfolio strategies to meet the evolved needs of the workforce. Check back for more from the flexible office team as this may not reflect the current Avison Young position. Look for vertical-specific insights and long-term impact considerations in the weeks ahead.
For more information, contact Charlie Morris, Practice Leader, Flexible Office Solutions
The spread of COVID-19 and the containment policies being introduced are changing rapidly. While information included is current as of the date written, the views expressed herein are subject to change and may not reflect the latest opinion of Avison Young. Like all of you, Avison Young relies on government and related sources for information on the COVID-19 outbreak. We have provided links to some of these sources, which provide regularly updated information on the COVID-19 outbreak. The content provided herein is not intended as investment, tax, financial or legal advice and should not be relied on as such.