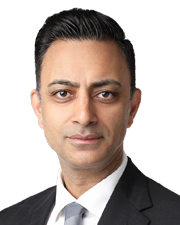 Sanjiv

Chadha

MCR, SIOR
Broker
Principal


Services aux occupants
77 City Centre Drive
Suite 301

Mississauga, ON L5B 1M5 CA
With 21 years of corporate real estate experience Sanjiv is consistently ranked as a top performer. He exclusively represents corporate occupiers and specializes in transaction and portfolio management for national and global clients, having completed assignments in more than 20 countries worldwide.
Sanjiv helps his clients with all aspects of corporate real estate activities including co-working, strategic planning, site benchmarking, lease and purchase negotiations, dispositions, lease renewals and renegotiations, facility purchases and build-to-suits. His well-developed knowledge of the real estate process allows him to successfully execute significant and complex projects.
With broad experience across several industries, Sanjiv also has market specialization in the automotive sector, focused on Tier 1, 2, and 3 industrial space, and OEM facilities.
He has completed in excess of $1 billion in transactional volume, representing over 18 million square feet.
Sanjiv is a trusted real estate advisor whose reputation of being dependable, proactive, agile, and trustworthy is evidenced by his loyal clients whom he has repeatedly represented.
Sample Projects Include
109,000 SF - Office Purchase
163,000 SF – Industrial Sale Leaseback
51 Acres – Commercial Land Purchase
156,000 SF –Manufacturing Plant Build-to-Suit
323,000 SF – Sale Leaseback of 2 Manufacturing Plants
460 Sites – Centralization of real estate site data
92,000 SF –Office HQ Build to Suit
400,000 SF – Manufacturing/R&D Plant, Build to Suit
262,000 SF –Manufacturing Plant, Build to Suit
178,000 SF – Office Consolidation
30,000 SF – Office Consolidation
Global Site Benchmarking
30+ Countries - Lease Audit
---