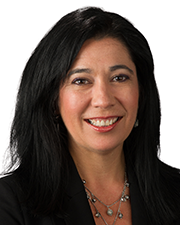 Sandra Hill
Coordonnatrice administrative

4400 Post Oak Parkway
Suite 1500

Houston, TX 77027 US
Sandra Hill joined Avison Young in 2017 and is responsible for maintaining Operations and
Administrative systems for the Houston office. In addition to coordinating office meetings
and events, Sandra manages billing systems and oversees operational and administrative
projects.
Sandra began her diverse professional career as a Press Assistant for U.S. Senator Phil
Gramm in Washington, D.C. She then worked for Speaker of the House Newt Gingrich in
the U.S. Capitol where she served as Assistant Press Secretary and Hispanic Liaison. Her
responsibilities included writing speeches, drafting press releases, coordinating interviews,
planning press events, and establishing a relationship between key Hispanic groups and
Speaker Gingrich.
In 1998, Sandra was named one of the Most Influential Hispanics in the U.S. by Hispanic
Business Magazine. During this time, she transitioned to Fannie Mae as a government &
industry relations manager wheres she advocated homeownership issues to members of
Congress on behalf of Fannie Mae. In this role, Sandra also coordinated corporate events,
including events at the 2000 Republican and Democratic Conventions and the 2001
Presidential Inauguration.
In 2004, Sandra returned home to Texas where she was a star unit leader for Lia Sophia
jewelry and earned Top Seller and Recruiter recognitions multiple times. Sandra also taught
kick-boxing and interval training classes for several years. Most recently, she was assistant
manager for White House Black Market at Baybrook Mall.

Sandra earned her Bachelor of Arts degree in journalism with a minor in speech
communication from the University of Houston – Main Campus. Sandra is also very involved
in her community and with her children's activities. She is currently the president of the
Timber Cove Swim Team and past president of the Timber Cove Garden Club.
She is a co-leader of her daughter's Girl Scout troop and has served on the board of the Bay
Elementary PTA. Sandra is also a member of the Clear Falls Aquatics Booster Club and Clear
Falls Orchestra Booster Club.
---