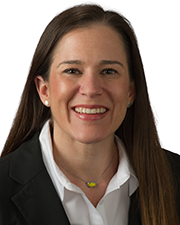 Jessica

S.

Alexander
Coordonnatrice de projet


Marchés des capitaux
4400 Post Oak Parkway
Suite 1500

Houston, TX 77027 US
Jessica Alexander brings more than eight years of research, transaction support, and market experience to the Avison Young Capital Markets Group led by Darrell L. Betts, CCIM. In her current role as Project Coordinator, Capital Markets Group, Ms. Alexander provides the team with project research and analysis, property marketing, and assignment management oversight.

Prior to joining Avison Young, Ms. Alexander served as Transaction Specialist for the office investment brokerage team comprised of Darrell L. Betts, CCIM and David Chuoke within the Capital Markets Group of Cushman & Wakefield.
Prior to joining Cushman & Wakefield, Ms. Alexander served as Senior Analyst, Research for Thompson National Properties, LLC. During her tenure with Thompson National Properties, Jessica worked closely with the Chief Investment Officer assisting with the acquisition process as well as serving as Office Manager to the Thompson National Properties' Houston office location.
Prior to joining Thompson National Properties, LLC, Jessica joined the Betts Farber Investment Team at Grubb & Ellis Company as a Market Associate to utilize her research experience by profiling potential investors. Jessica maintained relationships with prospects and clients by providing them with a range of market data in order to create new business. Ms. Alexander created a monthly eNewsletter for the team's clients and prospects which featured topics such as current news, listings, deals done and much more. Jessica tracked competitor listings and validated sales comparables in order to follow Texas market investment activity in addition to profiling ownerships of potential listings by tracking capital flows through uncovering ownership of properties in the market. Jessica also contributed to the production of comprehensive marketing packages on each property listing as well as producing proposals to obtain future business. Jessica's professional accomplishments at Grubb & Ellis Company included Employee of the Year for 2004.
Prior to joining the Betts Farber Investment Team, Jessica served as the Database Coordinator in Grubb & Ellis's Research & Client Services Group, where she became integral to the Southern Client Services group by analyzing real estate market data related to properties, listings, tenants and comparable transactions for all real estate divisions for the Company's internal data warehouse. In addition, Jessica maintained data integrity for listings on vendor websites such as Costar, RedNews, Commercial Gateway and LoopNet.
Affiliations et certifications
Education and Designations
Bachelor of Business Administration (BBA) degree in Marketing with a minor in Latin American Studies from the University of Houston
Texas Real Estate License.
Commercial Real Estate Research Forum (CRERF)
Senior Research Board - Commercial Gateway
---
Propriétés
12000 Aerospace

12000 Aerospace Ave.

Houston, TX 77034

Office
For Sale
Briar Hills Office Building

1011 Highway 6 S.

Houston, TX 77077

Office
For Sale
480 North Belt

480 N. Sam Houston Parkway E.

Houston, TX 77060

Office
For Sale
2222 Bay Area Blvd.

2222 Bay Area Blvd.

Houston, TX 77058

Office
For Sale
Northwest One

13100 Northwest Freeway

Houston, TX 77040

Office
For Sale
Beltway Office Park

3737-3743 Red Bluff Rd.

Pasadena, TX 77503

Office
For Sale
Market St. | Tract 6

Market St. - Tract 6

Channelview, TX 77530

Land
For Sale
Battleground Port Development

2012 Miller Cut Off Rd.

La Porte, TX 77571

Land
For Sale
State Highway 146 & Red Bluff Ln.

State Highway 146 & Red Bluff Ln.

Seabrook, TX 77586

Land
For Sale
2350 North Belt Tower

2350 N. Sam Houston Pkwy E.

Houston, TX 77032

Office
For Sale
Hercules I & II

1300 & 1290 Hercules Ave. Houston, TX

Houston, TX 77058

Office
For Sale