null - Commercial Real Estate News Releases | Avison Young News
Commercial real estate news releases from Avison Young
Quarterly and topical research insights to help your business gain competitive edge in commercial real estate.
Avison Young Korea offers differentiated transaction advisory services in concert with its affiliates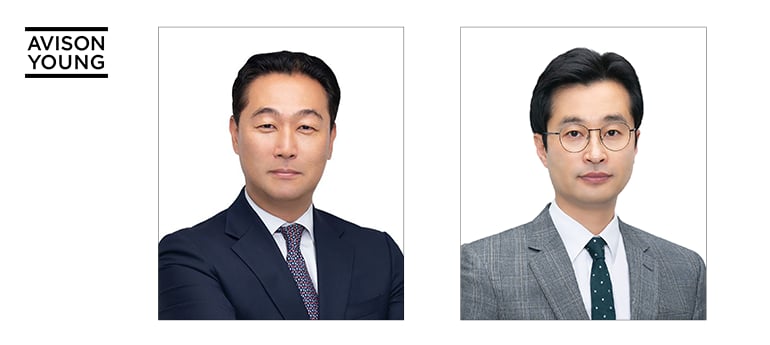 juin 1, 2023
Avison Young Korea (AYK) recently reorganized its divisions to better target the transaction advisory market by strengthening the collaboration with Genstarmate's affiliates. Genstarmate is the parent company of Avison Young Korea.
Changouk Lee, the current CEO of GenstarMate, took the lead in Avison Young Korea. Changouk Lee also serves as the CEO of MatePlus, one of affiliates of Genstarmate, so AYK believes the cooperation of the three companies could bring up a differentiated service to the transaction advisory market.
Avison Young Korea Capital Market division welcomed key players from various backgrounds. Jaehoon Jo, the Head of capital market business unit and senior executive director, has strong expertise in finance. He has rich experiences in corporate finance, alternative investment, and risk management working for Korean French Banking Corp. (current Meritz Investment Bank), Hana Securities, and Heungkuk Asset Management.
Jayden Hee Duk Kang, the executive director who recently completed a master's degree in real estate from the University of Manchester in the UK, has over 15 years of experience in business development, private equity & venture capital, and real estate advisory & equity investment.
Avison Young Korea also welcomed leaders who have AMC, Construction, and Developer backgrounds to the capital markets division.
Korea's capital market is expected to go through hardship in the remainder of 2023. Interest rate rise starting in the second half of 2022 negatively affected the transaction advisory market. Especially, refinancing and recapitalization have become the key factors to be considered when it comes to transaction. The changes brought out the necessity of a professional advisory service like corporate finance, risk management, and strategic and financial investment. The experts of Avison Young Korea, who have rich experiences in those professional advisory services, will provide advisory services to meet clients' needs.
As the interest in real estate investment from family offices or individual corporates with funds increases, Avison Young Korea is broadening the investors' network in close cooperation with GenstarMate and MatePlus.
Jayden Hee Duk Kang said "Strategic investors are shifting their interest to direct investment. We thrive to provide service where strategic and financial investors both could win together with the help of a strong bond that we have built." He also mentioned, "The collaboration between Avison Young Korea and its affiliates will help Avison Young Korea offer a unique transaction advisory service to our clients to increase their satisfaction, and prospect for new clients."
Avison Young Korea opened in Seoul in 2018, in collaboration between GenstarMate and Avison Young, a global real estate company. It represents Avison Young's first office in Asia. Avison Young has 17 offices globally, 5,000 people specialized in real estate property management, tenant representation, transaction advisory, retail, and research & consulting services.
About Avison Young
Avison Young creates real economic, social and environmental value as a global real estate advisor, powered by people. As a private company, our clients collaborate with an empowered partner who is invested in their success. Our integrated talent realizes the full potential of real estate by using global intelligence platforms that provide clients with insights and advantage. Together, we can create healthy, productive workplaces for employees, cities that are centers for prosperity for their citizens, and built spaces and places that create a net benefit to the economy, the environment and the community.
Avison Young is a 2022 winner of the Canada's Best Managed Companies Platinum Club designation, having retained its Best Managed designation for 11 consecutive years.
For more information: