null - Commercial Real Estate News Releases | Avison Young News
Commercial real estate news releases from Avison Young
Quarterly and topical research insights to help your business gain competitive edge in commercial real estate.
GPAlliance mietet in Hamburger "Nexus TriTowers" der FREO Group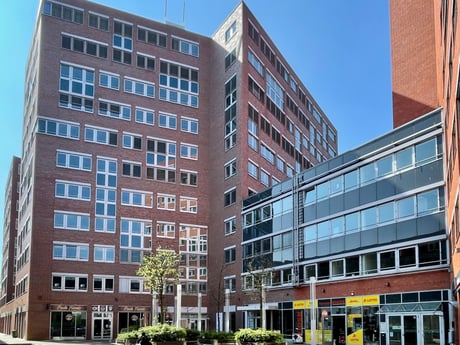 mai 8, 2023
Die GPAlliance Ausbildung für Pflege und Pflegefortbildung hat rund 630 Quadratmeter Bürofläche im "Nexus TriTowers", Hammerbrookstraße 92, in Hamburg gemietet. Vermieter der Flächen ist die FREO Group.

Die GPAlliance wurde 2009 gegründet und existiert damit seit Beginn der damals neu gegründeten Ausbildungsform Gesundheits- und Pflegeassistenz (GPA). Sie bietet fachpraktischen Unterricht im Rahmen der Ausbildung zur Gesundheits- und Pflegeassistenz und bilden GPAs in Erstausbildung aus. Das Unternehmen bietet außerdem Erste-Hilfe-Kurse und Pflegefortbildungen an.

Julian Haubrock, Principal und Director Office Leasing bei Avison Young in Hamburg: "Wir freuen uns für GPAlliance passende Schulungsflächen in direkter Nachbarschaft zum aktuellen Standort gefunden zu haben. Die neuen Flächen im ´Nexus TriTowers´ bieten ideale Voraussetzungen, das bisherige Wachstum fortzuführen und die Möglichkeit, der großen Nachfrage an Pflegefortbildungen gerecht zu werden."
Die Immobilie wurde 2002 gebaut und verfügt über insgesamt knapp circa 9.000 Quadratmeter vermietbare Fläche, die sich auf zehn Etagen verteilt. Der "Nexus TriTowers" befindet sich in der Mitte der drei Gebäude nahe dem S-Bahnhof Hammerbrook.
Über Avison Young
Avison Young ist ein globales Immobilienberatungsunternehmen und schafft wirtschaftliche, soziale und ökologische Werte. Als eigentümergeführtes Unternehmen sind wir ein starker Partner und investieren in den Erfolg unserer Kunden. Bei Avison Young verbinden wir lokale mit globaler Expertise und setzen intelligente Plattform-Technologien ein, mit denen wir unseren Auftraggebern entscheidende Know-how-Vorteile bieten und neue Wege aufzeigen, das gesamte Potenzial von Immobilien auszuschöpfen. Gemeinsam mit unseren Kunden entwickeln wir Konzepte für ein gesundes und produktives Arbeitsumfeld und für Orte der Begegnung, die sich positiv auf die Wirtschaft, Umwelt und Gesellschaft auswirken.