null - Commercial Real Estate News Releases | Avison Young News
Commercial real estate news releases from Avison Young
Quarterly and topical research insights to help your business gain competitive edge in commercial real estate.
Berliner Senatsverwaltung für Bildung, Jugend und Familie wird neuer Mieter im "Platinum"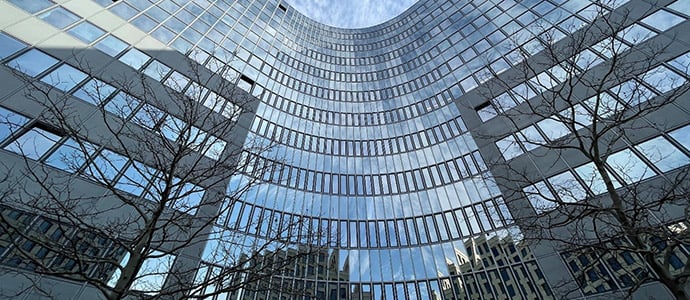 avril 27, 2023
Die BIM Berliner Immobilienmanagement GmbH hat für die Berliner Senatsverwaltung für Bildung, Jugend und Familie (SenBJF) rund 4.500 Quadratmeter Bürofläche in der Immobilie "Platinum" angemietet. Eigentümer des Gebäudes ist Aroundtown. Bei der Anmietung war das global agierende Immobilienberatungsunternehmen Avison Young beratend und vermittelnd tätig.
Das "Platinum" am Sachsendamm 2-7 verfügt über rund 17.000 Quadratmeter Bürofläche. Das elfstöckige Bürogebäude wurde vom deutschen Architekten Jürgen Sawade im Jahr 1994 entworfen und fertiggestellt. Die elegante Architektur des markanten Eckgebäudes wird durch den hohen Glasanteil der Fassade geprägt.
Sanja Palija, Prokuristin und Director Office Leasing bei Avison Young: "Wir freuen uns sehr über den neuen Mieter im ´Platinum´, das nun nahezu vollvermietet ist."
Über Avison Young
Avison Young ist ein globales Immobilienberatungsunternehmen und schafft wirtschaftliche, soziale und ökologische Werte. Als eigentümergeführtes Unternehmen sind wir ein starker Partner und investieren in den Erfolg unserer Kunden. Bei Avison Young verbinden wir lokale mit globaler Expertise und setzen intelligente Plattform-Technologien ein, mit denen wir unseren Auftraggebern entscheidende Know-how-Vorteile bieten und neue Wege aufzeigen, das gesamte Potenzial von Immobilien auszuschöpfen. Gemeinsam mit unseren Kunden entwickeln wir Konzepte für ein gesundes und produktives Arbeitsumfeld und für Orte der Begegnung, die sich positiv auf die Wirtschaft, Umwelt und Gesellschaft auswirken.