Commercial real estate news releases from Avison Young
Quarterly and topical research insights to help your business gain competitive edge in commercial real estate.
Avison Young strengthens economics capabilities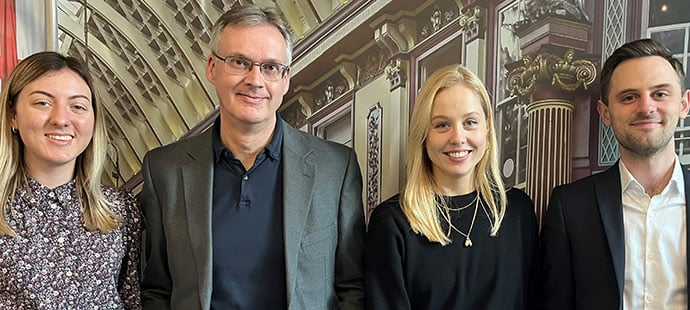 janvier 13, 2022
Team expansion follows success of securing over one billion pounds of public sector funding for clients over the last two years.
Team expansion follows success of securing over one billion pounds of public sector funding for clients over the last two years.
Avison Young today announced the hiring of Dr Stephen Rosevear (Director), Patrick Ransom (Associate Director), Louisa Guyon (Associate) and Victoria Smyth (Consultant), all formerly of Hatch Consulting, to expand the company's economics capabilities.
The team will sit within the national regeneration team, led by Nicola Rigby and Martyn Saunders, providing an additional level of economic expertise to the existing teams based in Manchester and London. This builds on the growth of the team last year to include two new graduates – Aba Shokunbi and Aaron Leadbeater, and the promotion of Georgina Iliff in January 2022 to Consultant.
By bringing in this expanded offer the team is able to deliver unrivalled expertise in securing public investment, addressing socio-economic challenges, and securing the buy-in, support and permissions needed for investment propositions.
The combined team has successfully secured over a billion pounds of public sector funding for clients over the last two years. This has included major infrastructure projects, housing initiatives and town centre and COVID-19 recovery strategies.
The new team has also been involved in some nationally significant projects including Freeports, the Housing Infrastructure Fund and Heritage Action Zones, as well supporting cities and towns through various funding, delivery and strategy programmes.
Drawing on 25 years of experience as an economist and strategic adviser in area-based regeneration, Dr Stephen Rosevear will lead the new offer. He has recently advised on three separate Freeport propositions and developed new university proposals in Herefordshire, Peterborough and South Essex.
Stephen is joined by Patrick Ransom, who is an experienced economic development and regeneration specialist. He has worked across both the private and public sector and has recently developed economic strategies and placed-based propositions for Dereham, Streatham, Watford, Oxford, Swaffham, South Norwood and Watton.
Stephen and Patrick will be supported by Louisa Guyon and Victoria Smyth. Both have a strong understanding of HM Treasury's Green Book and its practical application to the development and appraisal of business cases across a broad range of subjects. They have recently collectively supported several local authorities to prepare Town Investment Plans and Future High Street Fund Applications, including in Milton Keynes, Cleator Moor and Millom, Tottenham, Newton Abbot and Grantham.
Stephen said: "We believe that our collective capabilities will add value to Avison Young's existing client base and support the continued growth of the business. Equally important, we want to help our clients deliver better outcomes for communities across the UK. Our cutting-edge appraisal, evaluation, research and modelling techniques, alongside our practical understanding of strategy and delivery, will provide the insights that clients need to make evidence-led decisions, to develop compelling funding applications, write robust business cases, create meaningful economic development and social value strategies and articulate the economic impacts of their investments".
Martyn Saunders, Principal, Planning, Development and Regeneration, added "Having merged the Manchester and London regeneration teams in 2021 to support the growth of our public and private sector advice nationally, we are delighted to see further expansion with Stephen and the team joining us. There is no doubt that a robust economic basis for intervention and funding strategy is a core requirement of all the multi-disciplinary advice we give – which is becoming even more apparent with an increasing emphasis on levelling up, shared prosperity and net zero. We are incredibly pleased to have secured a team with such talent and expertise".