Communiqué
Avison Young enters fast-paced South-East-Asian real estate market through new affiliation agreement in Vietnam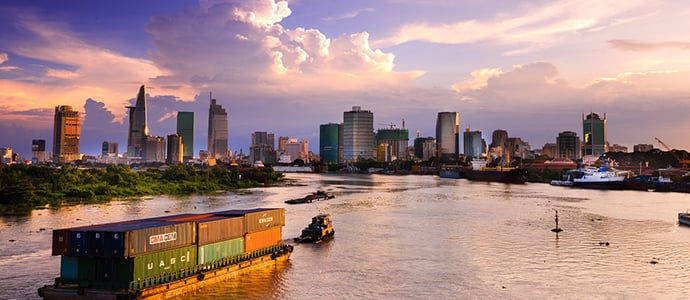 septembre 20, 2023
Global real estate company Avison Young expands its APAC reach into the South-East-Asian market by taking on board 100 industry experts in Ho Chi Minh City and Hanoi.
Toronto, ON – Avison Young today announced its expansion into the Vietnamese market through a strategic affiliation agreement with Ho Chi Minh City and Hanoi-based D&P Company. The commercial real estate company expands its APAC network - and establishes a presence in South-East Asia for the first time, demonstrating the firm's commitment to providing exceptional real estate services to clients around the world.
The new Avison Young Vietnamese operation offers experienced, multi-national team consisting of more than 100 real estate experts, with transactional, management, and consulting services across all major property types. Services include Valuation and Advisory, Industrial and Office Leasing and capital markets, property management, and asset management.
The offices in Hanoi and Ho Chi Minh City will be led by David Jackson and Peter Dinning, who will be joining as Principals, with Jackson taking on the role of CEO and Dinning acting as Chairman. Both have in-depth knowledge of the Vietnamese market and more than 20 years of experience as managing directors of a real estate company in the South-East Asian market. This will enable the Avison Young team to provide tailored real estate solutions to clients in Vietnam, enabling them to navigate this dynamic and rapidly evolving market with confidence. The country with its fast-paced real estate market has seen significant socio-economic growth in the past decades. Its young population and tech-savvy workforce, encourage innovation and rapid urbanization.
The affiliation agreement is a strategic step in Avison Young's global expansion. By leveraging its global intelligence platforms and working with local industry experts, Avison Young aims to build lasting partnerships with clients and contribute to the sustainable development of communities in Vietnam.
Mark E. Rose, Chairman and CEO of Avison Young, expressed his excitement about the affiliation, saying:
"Vietnam is a fast-growing market, and we are incredibly excited to expand the Avison Young network in the Asian-Pacific real estate market, through our affiliation with D&P. Vietnam's robust economy and dynamic real estate sector offer tremendous opportunities for us to deliver innovative solutions to our clients. We are confident that David's and Peter's leadership and expertise will be instrumental in establishing and growing our presence in this market.
David Jackson, Principal and CEO of Avison Young Vietnam, said:
"The opportunity to lead the newly affiliated office in Vietnam of a dynamic, tech-forward and deeply experienced global real estate company such as Avison Young, is very exciting. Together with our experienced team, we look forward to extending the company's purpose of creating real economic, social and environmental value to the South-East Asian market."
About Avison Young
Avison Young creates real economic, social and environmental value as a global real estate advisor, powered by people. As a private company, our clients collaborate with an empowered partner who is invested in their success. Our integrated talent realizes the full potential of real estate by using global intelligence platforms that provide clients with insights and advantage. Together, we can create healthy, productive workplaces for employees, cities that are centers for prosperity for their citizens, and built spaces and places that create a net benefit to the economy, the environment and the community.
Avison Young is a 2023 winner of the Canada's Best Managed Companies Platinum Club designation, having retained its Best Managed designation for 12 consecutive years.
For more information, visit www.avisonyoung.com