Commercial Real Estate for Data Centres | Avison Young
Commercial real estate for data centres
Reimagine your technology strategy, improve infrastructure agility
Avison Young's data centre advisory practice assists CIOs and CFOs with their data centre and IT strategy. As the demands on IT are increasing, organizations are rethinking their data centre strategy. In addition, the continuously accelerating pace of business change is driving extreme demand for IT infrastructure agility, and most companies simply cannot keep pace. Making the right data centre decisions is crucial to your company's bottom line, ensuring business continuity and profitability.
Connect with my local data centre advisor
True data centre consulting
Our data centre advisory practice experts come from extensive technology backgrounds, combined with a true data centre consulting approach, allowing us to provide our clients with extensive solution options beyond simple real estate transactions, including market assessments, data centre deployment strategies and financial analysis. Our knowledge of how occupancy costs, site location, fibre optics, and technology trends impact individual businesses – along with our understanding of provider offerings in the market – allows us to provide a unique service approach.
The Avison Young team is able to handle requirements ranging from large free-standing data centres to "non-real estate" solutions such as managed hosting, cloud services, interconnect arrangements and simple rack deployments. We also are involved in emerging technology solutions such as containerized and modular data centres.
Our unique backgrounds and experience allow us to bridge the gap between "traditional" real estate decision making and the highly-evolved complexities of IT real estate. We align data centre strategies with each client's goals and objectives.
We bring years of experience to every client and view each assignment as more than a transaction. Our global network and principal-led culture, along with leading market knowledge, helps ensure the best possible results for our clients.
Services include:
Market analysis
Transaction services (sale, lease, wholesale/retail colocation)
Site selection
Provider selection (outsourcing, managed services, hybrid cloud)
Provider representation
Project management
Valuation services
Investment sales
Debt & Equity service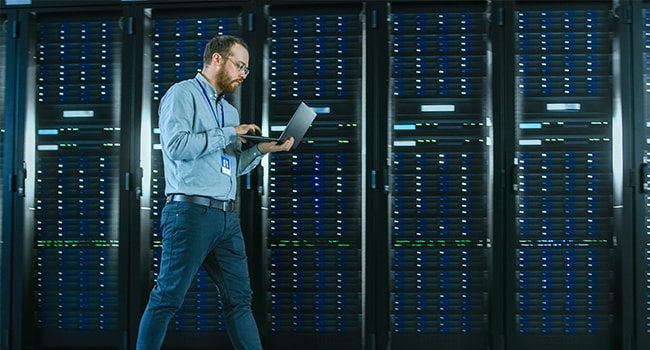 Abonnez-vous aux communications d'Avison Young pour recevoir des nouvelles de l'industrie, de l'information sur nos propriétés, nos rapports de marché et bien plus.