null - Commercial Real Estate Blog | Avison Young
Avison Young's commercial real estate blog
World Economic Forum, Davos 2022: That's a wrap!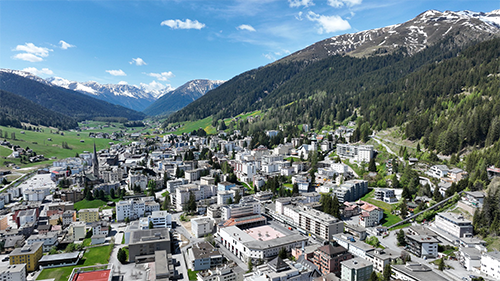 May 29, 2022
Impressions from the World Economic Forum Annual Meeting 2022 in Davos-Klosters, Switzerland, 19 May. Copyright: World Economic Forum/Marcel GIGER
What an amazing week! As a first-time attendee at the Annual Meeting, I wasn't entirely sure what to expect from the legendary "Davos" – but it certainly exceeded expectations. As I reported in my blogs, my days each ended up with a focus on a particular issue that is close to my heart and to the corporate purpose of Avison Young.
On Monday most of my meetings and sessions focused on the climate crisis, which as a real estate services company we are deeply concerned about. A highlight was meeting Al Gore when he attended our Real Estate Governors private session. The former U.S. Vice President presented data that is terrifying for the future if we do not act, reinforcing a message that he has now been consistently delivering for over 40 years since he organized the first hearing on man-made global warming in the House of Representatives back in 1981. Much of the rest of the day was spent with real estate and corporate CEOs in different forums discussing how we can move from strategy to action through promoting adoption of the WEF Green Building Principles, of which we are a proud signatory.
On Tuesday I was initially focused on the session covering The Rise of The Stay-at-Home Economy, where I was a panelist discussing the impact of ongoing changes in the retail sector. Bricks and mortar retail is far from dead – but it must evolve rapidly to accommodate the huge changes seen in society, and in shopping behavior. Adoption of technology to offer a customer experience that truly embraces an omnichannel approach is key. The remainder of a busy day was mainly spent in bilaterals, although a major highlight was the World Leaders lunch focused on restoring peace and order. Hearing from Mayor Klitschko first-hand about the resilience and fortitude of the Ukrainian people was deeply impactful. I was moved by the compassion and commitment shown by world and business leaders and many of my bilateral meetings have opened the door to working with them on business and humanitarian issues.
Then on Wednesday, attention turned to an issue which I am personally passionate about – Diversity, Equity and Inclusion (DE&I). There were a variety of fantastic speakers on the topic throughout the week, none more so than at the Diversity & Inclusion and LGBTQI+ Outlook sessions. The focus on DE&I here reinforced to me more than ever how closely the priorities of the World Economic Forum align with our own. The concept of inclusion, something we so deeply believe in at Avison Young- was front and center. Unfortunately, the discussions highlighted that the world has a long way to go. But there is hope, we are making progress, and I continue to marvel at our culture and the way we embrace everyone at Avison Young.
Of course, doing business, making contacts, client relationship management and the state of the economy are important to us. But the emphasis on bringing together the world's leading businesses and public figures to collectively address issues like the climate crisis and driving social change is fundamental to what Avison Young stands for. It is truly exciting and energizing to see heads of state, political leaders, entertainers, philanthropists and the CEOs of global organizations coming together and treating each other as equals as they all strive to make the world a better place. I look forward to meeting again in 2023 to continue the journey.
Remember, we don't just want to do business; we want to do good business. My first Davos has been an incredible experience.
You can recap on the detail of Mark's experiences at Davos via his daily posts on the Avison Young Blog, and watch recordings of many of the sessions from the conference program. The World Economic Forum Agenda website also contains a wide range of articles and posts on the topics covered at the meeting.
© 2023. Avison Young. Information contained in this report was obtained from sources deemed reliable and, while thought to be correct, have not been verified. Avison Young does not guarantee the accuracy or completeness of the information presented, nor assumes any responsibility or liability for any errors or omissions therein. All opinions expressed and data provided herein are subject to change without notice. This report cannot be reproduced, in part or in full, in any format, without the prior written consent of Avison Young.