Vitality Index In Development
The Vitality Index
Mobility data and the foot-traffic patterns of cities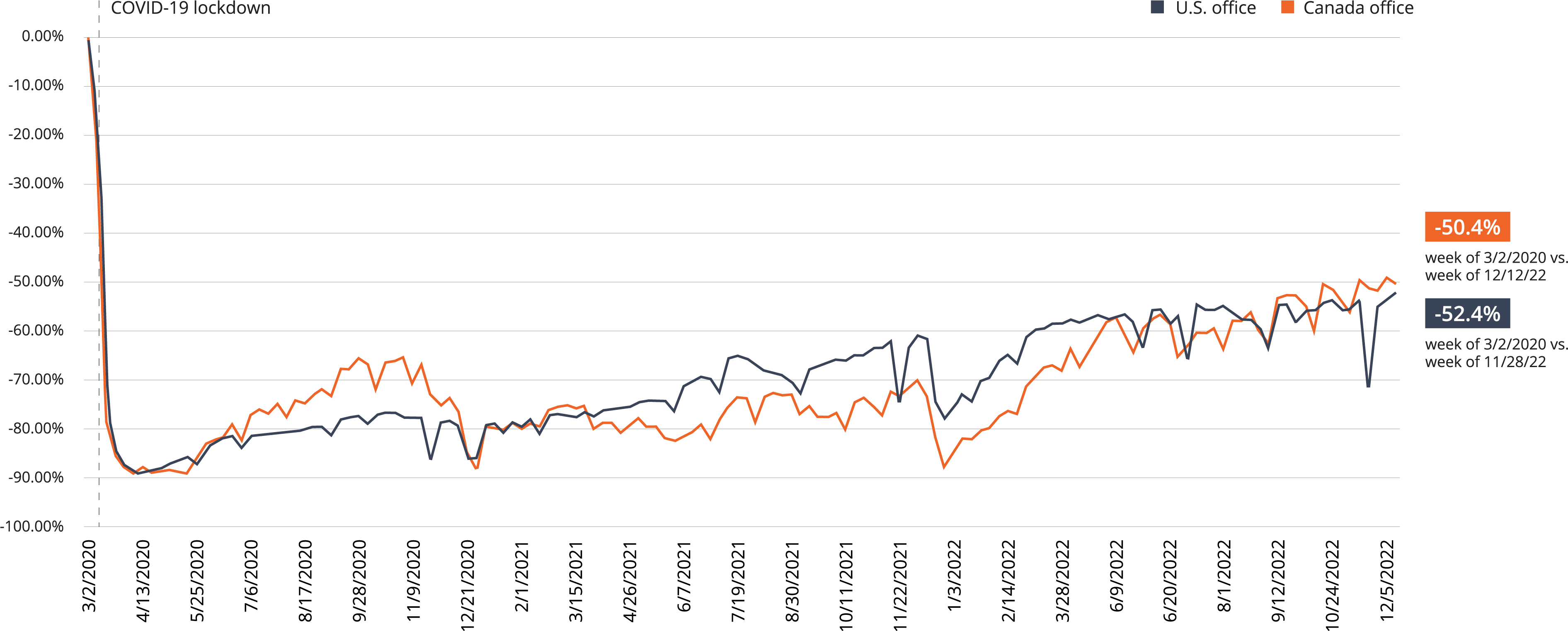 Measuring the movement of people and places
Avison Young's Vitality Index is a dynamic dashboard of weekly foot traffic patterns from 52 markets across North America – offering holistic, big-picture views of the vibrancy of our cities across markets and sectors.
The tool allows you to compare a wide range of unique data sets against one another – week over week, market against market, sector against sector, to find the critical trends commercial real estate owners, operators and investors need to know to make their most impactful decisions yet.
Various places and trends happening within our communities and workplaces are fundamentally interconnected, pointing to overall vitality of sectors and cities. The Vitality Index gives us a unique window into the opportunities ahead -- the next story of people and the places we thrive in.
Craig Leibowitz
Director
Innovation and Insight Advisory, U.S.
Here's just a snapshot of what our Vitality Index data and reporting taught us in 2022:
City vitality is benefiting from a surge in leisure activities such as visits to cultural and sporting events, restaurants, and other social activities.
For businesses that depend on worker foot traffic, understanding traffic patterns can help determine optimal opening times and staffing needs, and offices can leverage these same insights toward critical decisions around energy consumption and space planning.
People are making changes about where they go when, prioritizing places that fit their unique needs now. This has led to increased numbers of traffic to the suburbs during the week, and downtown traffic spikes on the weekends, which were often reversed in the past, among other new and emerging trends.
Retailers can solve for locational strategies leveraging total visitor volumes and days of the week data creatively paired to customer experience aimed at capitalizing on or creating a rise in foot traffic numbers.
Culture and experience seem to be driving decisions for consumers across all markets and sectors.
We're at a moment in time where culture is driving foot traffic patterns – and the Vitality Index provides insight into what, how, and when spaces are attracting people. Our clients are seeking solutions to the very trends tracked by this index. We are helping them navigate this journey, deeply connected to the human experience and informed by the Vitality Index.
Mark Rose
Avison Young Chair and CEO
Where the numbers will take us in 2023
This year, we will be launching new reports and case stories shaped by the latest U.S. and Canadian-based insights found in the Vitality Index – with new, improved, and expanded data sets. Sign up now, so you don't miss out.
Sign up to be notified when these new Vitality Index reports are shared
Custom insights are ready for you now
While broad analysis and official reporting is on the way, we can dive into specific questions and criteria most relevant to your business at any time.
Get in touch, and let's build a custom dashboard together, shaped by your unique needs and goals for 2023 and beyond.
Contact the team
Director, Data, Analytics & Innovation, Canada

Consulting & Advisory
Corporate Executive
Market Intelligence
[email protected]


Get in touch
Please leave your details and an advisor will contact you.