Commercial real estate news releases from Avison Young
Quarterly and topical research insights to help your business gain competitive edge in commercial real estate.
Avison Young closes record $18M sale of 56,072-SF industrial/flex building in South Florida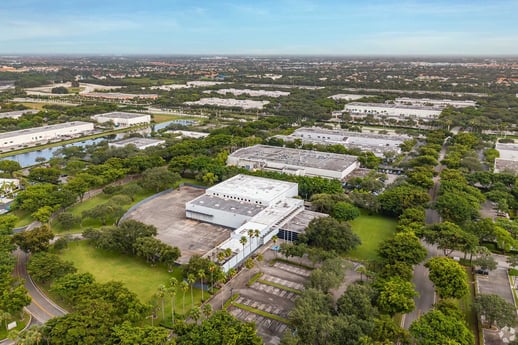 September 22, 2021
Miramar, Fla. – Avison Young negotiated the $18 million sale of the 56,072-square-foot Miramar Park of Commerce industrial/flex building at 10315 USA Today Way in Miramar, Florida. At $321.02 per square foot, the transaction represents the highest price per square foot secured for an industrial/flex property in Broward County.
On behalf of the seller, Zeta Associates, LLC, Avison Young's Industrial leasing team and Florida Capital Markets Group teamed up to complete the record-setting disposition to CRG Acquisition, LLC. The effort was led by Principals Tom Viscount, David Duckworth, Michael T. Fay, John C. Crotty, Wayne Schuchts, and Senior Associate Bobby Benton.
"The sale demonstrates both the resilience and attractiveness of the South Florida industrial market," said Viscount. "Specifically, the significant price per square foot is indicative of the high demand for class A industrial and flex space, as investors continue to see South Florida as a key growth region. Due to the extraordinary demand and limited supply, less than 10 flex buildings over 50,000 square feet sold in the past year."
The asset's buyer is an investor who was attracted to Miramar Park of Commerce's great location, well-maintained properties, and the prestige of the park. They plan to renovate the building to create a high-end educational campus-like setting to lease it to one of their national clients that operates a medical school.
"The buyer recognized the uniqueness and value of the building's overall footprint and quality infrastructure sitting on seven acres, which cannot be replicated in today's market," added Viscount. "These factors certainly contributed to the notable sales price."
Equidistant from Fort Lauderdale and Miami, Miramar Park of Commerce is a light industrial park campus in Southwest Broward County fronting the Florida Turnpike just one mile east of the Red Road Interchange. With over 5 million square feet of office/service, laboratory, pharmacy, light manufacturing, and distribution space, the world-class park is home to 10,000 employees from more than 170 national and international companies.
Avison Young creates real economic, social and environmental value as a global real estate advisor, powered by people. As a private company, our clients collaborate with an empowered partner who is invested in their success. Our integrated talent realizes the full potential of real estate by using global intelligence platforms that provide clients with insights and advantage. Together, we can create healthy, productive workplaces for employees, cities that are centers for prosperity for their citizens, and built spaces and places that create a net benefit to the economy, the environment and the community.
Avison Young is a 2020 winner of Canada's Best Managed Companies Platinum Club designation, having retained its Best Managed designation for nine consecutive years.
Follow Avison Young
Twitter (News)│Twitter (Deals)│Blog│LinkedIn│YouTube│Instagram
For more information:
Tom Viscount, Principal, Avison Young: 954.903.1810
Wayne Schuchts, Principal, Avison Young: 954.504.2032
David Duckworth, Principal, Avison Young: 954.938.1806
Michael T. Fay, Principal and Managing Director, Avison Young – Miami: 305.447.7842
John K. Crotty, Principal, Avison Young – Miami: 305.447.4865
Bobby Benton, Senior Associate, Avison Young: 954.903.1811