Commercial real estate news releases from Avison Young
Quarterly and topical research insights to help your business gain competitive edge in commercial real estate.
Avison Young to sell first-ever bitcoin offered night club on famed south beach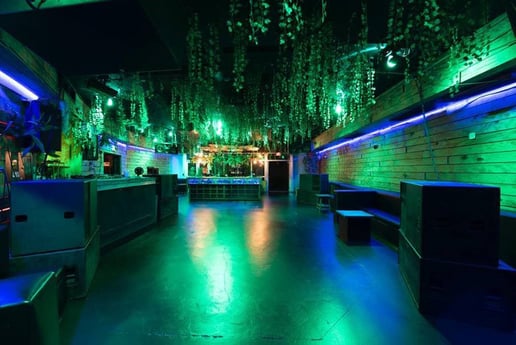 March 15, 2021
MIAMI – Avison Young's Florida Capital Markets Group has been exclusively tapped to sell the Treehouse nightclub business and real estate at 323 23rd Street in Miami's South Beach. The seller, Acqua LLC, led by Michael Freundlich, will consider all traditional cash or finance offers as well as Bitcoin, making the listing the first-known commercial real estate transaction to accept cryptocurrencies.
The turnkey nightclub and event venue is a stand-alone, single-story 4,322-square-foot structure on an 8,890-square-foot lot featuring indoor and outdoor areas. The business has a valid and up-to-date 5COP liquor license that permits the sale of alcohol, beer, and tobacco until 5 am in the City of Miami Beach. Adhering to all guidelines in light of COVID-19, the club operates from 6 pm to 12 pm, five nights a week at 50% capacity. Drinks-only service and strict mask mandates are in place.
Avison Young Principal and Miami Managing Director Michael T. Fay, Vice President Brian C. de la Fé, and Associate Emily Brais will spearhead the sale on behalf of the seller.
"In addition, the nightclub's impressive weekly cash flow, the property's location is one block from the beach and boasts ideal CD-3/Commercial zoning, which means it is in a high-intensity district with inherent property air rights allowing for future redevelopment opportunities," said Fay. "The seller is extremely flexible and offering Bitcoin as a form of payment which opens the door for a unique group of investors to play in a high-barrier-to-entry real estate market."
The Treehouse nightclub location has a strong history in Miami's nightlife scene, as it used to house prominent party destinations Rain and GrooveJet.
South Beach's bustling 23rd Street corridor hosts several world-renowned and successful nightclubs, restaurants, and entertainment venues. The Treehouse nightclub property is walking distance of multiple high-end hotels and luxury, multi-million-dollar condos, including the ONE Hotel, the Setai, the W, and many others.
"This is a distinctive opportunity for investors to purchase a unique piece of Miami's real estate and known business with transferable licenses that can be difficult to obtain," said Freundlich. "The creative financing option of this offering also adds tremendous value for investors and is ideal for many foreign players who heavily deal in cryptocurrencies and are looking to transfer that into an investment in American land."
Greater Miami's tourism and hotel industry perform exceptionally, ranking in the top 10 among the top 25 hotel markets in the U.S.
Avison Young creates real economic, social and environmental value as a global real estate advisor, powered by people. As a private company, our clients collaborate with an empowered partner who is invested in their success. Our integrated talent realizes the full potential of real estate by using global intelligence platforms that provide clients with insights and advantage. Together, we can create healthy, productive workplaces for employees, cities that are centers for prosperity for their citizens, and built spaces and places that create a net benefit to the economy, the environment and the community.
Avison Young is a 2020 winner of Canada's Best Managed Companies Platinum Club designation, having retained its Best Managed designation for nine consecutive years.
Follow Avison Young
Twitter (News)│Twitter (Deals)│Blog│LinkedIn│YouTube│Instagram
For more information:
Michael T. Fay, Principal and Managing Director, Avison Young – Miami: 305.447.7842