The

Vitality Index

How work, culture, and density are impacting the city and the suburbs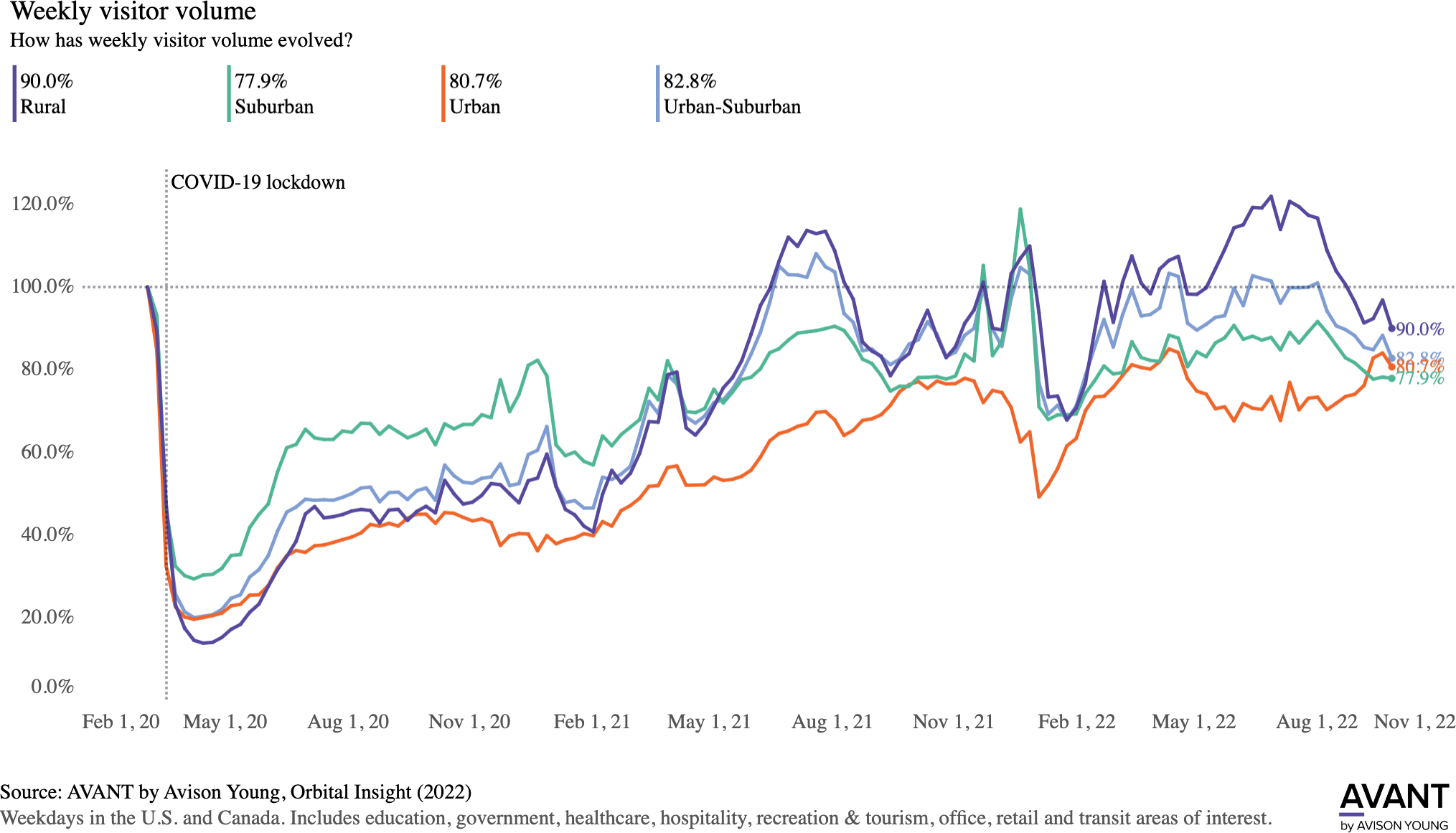 The dashboard above is a simplifield version to accommodate smaller displays. To view the full dashboard, increase your window size, zoom out using your browser settings, or view on a device with a larger display.
How work, culture, and density are impacting the city and the suburbs
It seemed so commonplace it became a cliché: city dweller packs up and flees, swapping pandemic fears for a bucolic life in the country. Yet it was a cliché because it really happened, at least as a broad trend—our Vitality Index shows people migrated to suburban and rural areas as cities shut down, seeking everything from distance from others to a better quality of life.
But now cities are awakening. Traffic and occupancy in urban areas across the United States and Canada are returning to pre-pandemic levels, driven by the easing of health concerns as pandemic fears recede as well as an increased willingness to return to the office. In fact, the Vitality Index shows visitor volumes in urban locations have increased by 70.7% this year, compared with just 3.3% in rural areas and 10.1% in the suburbs.
The city is almost completely back to normal in terms of living and playing.
Craig Leibowitz
Director
U.S. Innovation and Insight Advisory
"This is happening in real time," said Craig Leibowitz, Avison Young's Director of Innovation and Insight Advisory in the U.S. "The city is almost completely back to normal in terms of living and playing."
So what's the ultimate impact on cities and suburbs? After seeing a flight to the suburbs at the beginning of the pandemic, cities are beginning to recover in the residential market and benefiting from a surge in leisure activities such as visits to cultural and sporting events, restaurants, and other social activities. Yet downtown office activity remains significantly below pre-pandemic levels as the very nature of work has shifted, and that evolution is still under way.
"For better or worse, offices are such an important economic engine," Leibowitz said.
Urban locations are recovering from the pandemic
As offices and business closed after the arrival of the COVID-19 pandemic in March 2020, many living in cities faced a choice: remain locked down in a dense urban environment or seek an alternative. Population density was equated with exposure to the virus—and has been ever since, to some extent—and there was an exodus to suburban neighborhoods.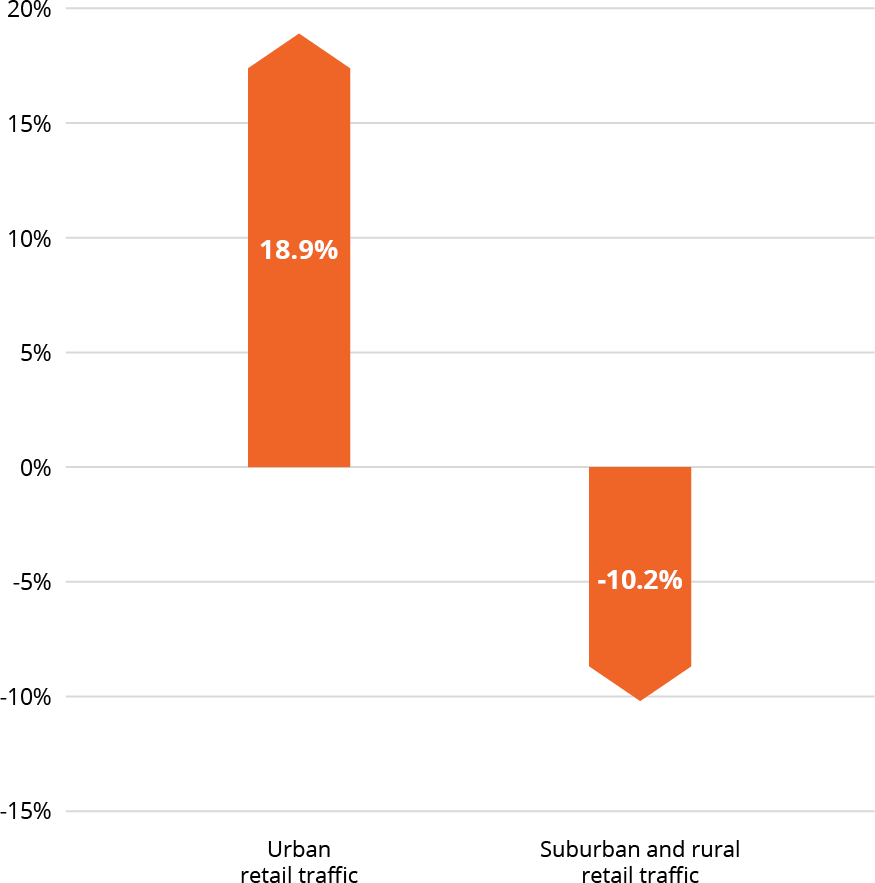 For some, that migration just accelerated the preexisting pattern of millennials moving to the suburbs to begin raising families. For others, though, the shift was driven by COVID-19.
"Cities were not a pleasant place to be in the immediate aftermath of the lockdown," Leibowitz said. "So people migrated to suburban and rural locations: open-air environments, less exposure to other people, the perception of greater safety. And that was the case throughout 2020 to 2021."
As the pandemic has receded and more employees add in-office time to their working week, some of those factors have reversed (economic uncertainty also increases the perception that "face time" is required). That's why visitor volumes in urban locations have outpaced suburbs and rural locations this calendar year, although rural locations some time ago approached pre-pandemic normalcy, with visitor volumes in the week of September 19 at 96.9% of those in the week preceding the pandemic lockdown.
Where does this leave suburbs? A compromise between the competing desires of employers and employees appears to be emerging, and The Vitality Index shows heavier visitor traffic in cities from Tuesday to Thursday, for example, but lighter traffic on Mondays and Fridays as workers choose flexibility around the weekend.
Demand for cultural experiences is revitalizing downtowns
Visits to cultural destinations in urban locations have jumped 55.8% since the beginning of this year, with hotels, sports arenas, and museums experiencing resurgent foot traffic as virus concerns and restrictions have subsided. Urban retailers have also enjoyed strong foot traffic this year, with visits increasing 18.9% while suburban and rural locations have dipped by 10.2%.
Tourist-centric retail corridors in cities have flourished, with visits rising 32.8% so far this year as travel restrictions have been lifted within North America and internationally.
"A lot of the tourist destinations are back to pre-pandemic levels, if not above them," Leibowitz said.
Grocery stores, measured through local retail experiences, have inched back to normalcy (+10.5%) due to greater expectations that employees will need to return to offices in the fall and winter, mimicking the strong rebound in demand for multifamily rental property.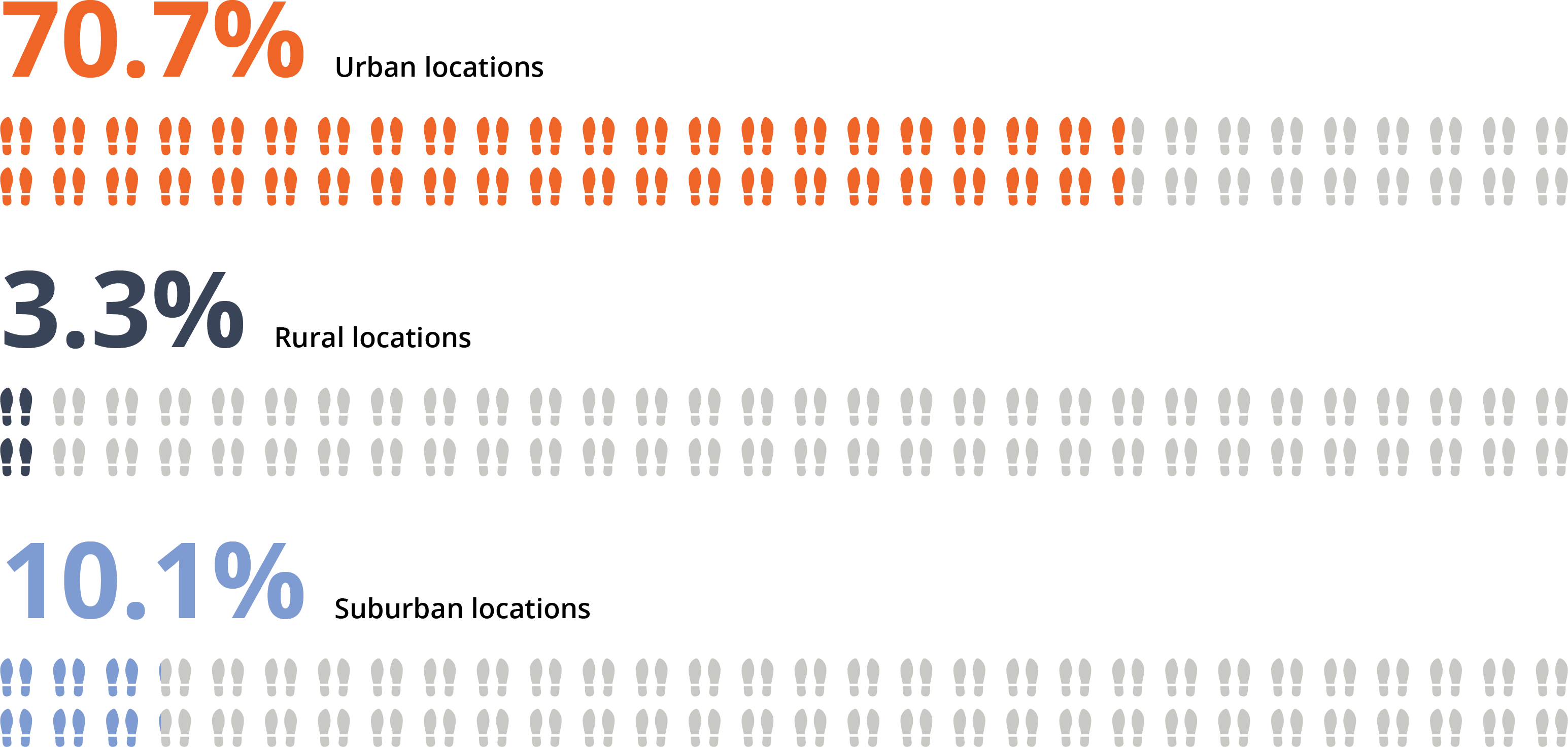 Balancing what employers and employees want
One major question given the rebound in urban residents and demand for restaurants, concerts, and sporting and cultural events is what that means for the future of cities if office visitation remains altered: North American office visitor volumes in the week after Labor Day remained 54.7% lower than just before the pandemic.
The problem? It appears mandates to return to offices—coupled with incentives, such as in-office perks—are running headlong into a workforce that has become accustomed to benefits of remote working, principally its flexibility and the elimination of commuting. The average commute in the United States is 29.2 minutes, and much longer than that seems to prompt change.
If you exceed a 45-minute commute and you're expected to go to the office every day of the week, you're probably looking for a new solution.
Craig Leibowitz
Director
Innovation and Insight Advisory in the U.S.
"The line of demarcation is about 45 minutes for people who are going into the office or expected to go into the office every day, or most days of the week," Leibowitz said. "If you exceed a 45-minute commute and you're expected to go to the office every day of the week, you're probably looking for a new solution."
Transit-oriented suburbs, as demonstrated by strong demand for home ownership throughout the pandemic, were already positioned for success based on the demographic composition of cities as millennials increasingly migrate outward to raise families. But the convenience to commute more quickly—especially using mass transit—makes a big difference.
Just how employers respond remains unclear. There is much talk of a "hub and spoke" approach, with companies retaining flagship downtown offices complemented by suburban locations that are closer to their employees. But there's no one-size-fits-all solution.
"I've heard everything under the sun," Leibowitz said. "But that's the beauty of these Vitality Index data: we get concrete insight into what people are doing that informs the decisions companies should make as a result of these behavior shifts."
The economic downturn may also be playing a role, encouraging more employees to spend time in offices so they're not out of sight, out of mind for management.
CONNECT WITH US TO LEARN ABOUT THE VITALITY INDEX
Key contacts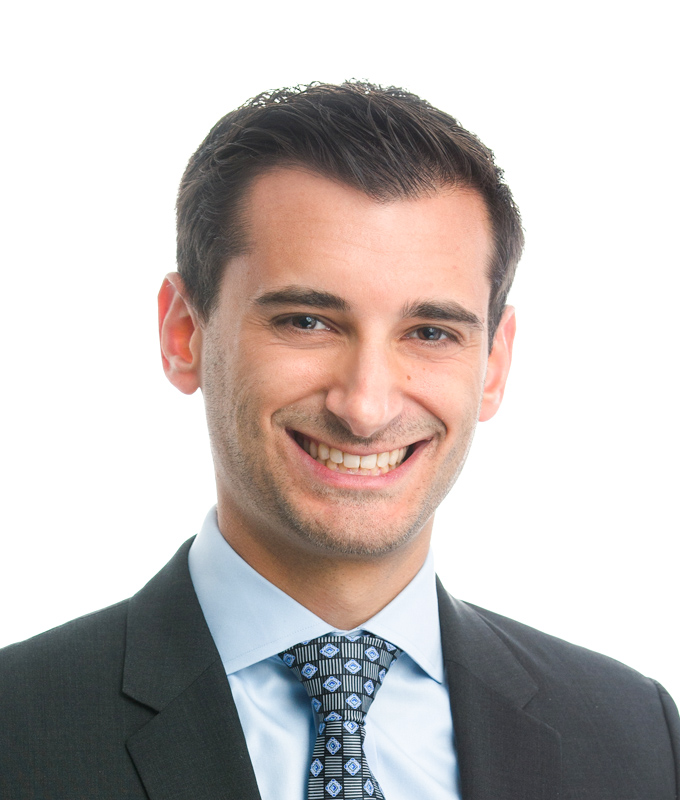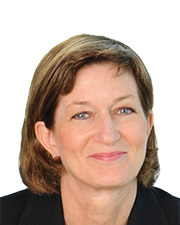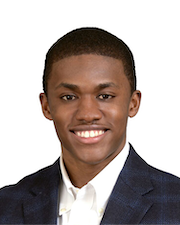 Get in touch
Please leave your details and an advisor will contact you.