Sightlines
Industrial supply chain remains challenged: Delays and shipping snags set to continue well into 2022…but could be a strong call for a future filled with more tech-driven solutions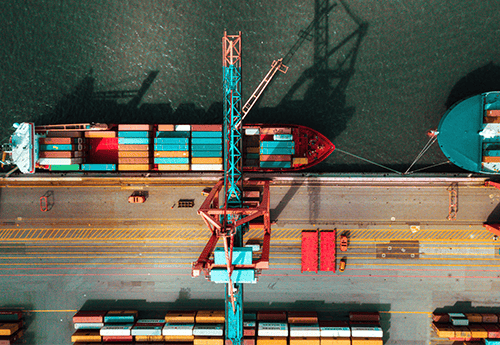 September 29, 2021
A new global wave of the pandemic. Floods in China and Germany. Wildfires in Western America. Trade wars. Unprecedented shipping challenges, including port congestions, labor shortages and container shortages.
These events and more have led to global supply chains cracking under pressure, as global businesses grapple with component shortages, shipping delays, unpredictable demand, rising input costs, and changing trade policies.
In fact, according to Accenture, 94% of Fortune 1000 companies have witnessed some type of supply chain disruption because of the pandemic.
So, where does that leave us? Where do supply chains currently stand because of shifts and challenges? What's making things more complicated, and what should future-forward suppliers be considering now?
Could improved or increased adoption of technology be the key to the data, insights, and resource gaps the industry currently has?
We explore below.
Supply chains remain affected by labour shortages, congestions and shipping delays
Supplier deliveries have been impacted by labour shortages that have in turn led to congestions and shipping delays. Index readings above 50%, as seen below, imply longer delivery times, eventually leading to price increases since companies are willing to pay a premium to secure key input materials.
Source: ISM, Bloomberg, Supply Chain Dive, Broker Notes, PR Newswire
But maintaining critical stock continues to be a challenge, impacted by global shipping delays and price hikes.
Current demands, across industries globally, continue to outpace production, driving further backlogs and higher lead times. Technology, construction, and industrial remain the most sensitive to these shortages and increasing demand, causing some suppliers to consider diversification and nearshoring/reshoring potential.
Source: World Bank, Drewry, HSBC Broker note, UNCTAD
Despite supply chain disruptions globally, manufacturers are maintaining inventories that are not directly translating to customer inventories due to logistical roadblocks, as reflected in the Supplier's Inventories index.
Source: World Bank, Drewry, HSBC Broker note, UNCTAD
Wood products, petroleum, coal products, electrical equipment, appliances and components, transportation equipment, and machinery represent sectors experiencing the highest maximum inventory shortages.
What the current outlook for shipping and transport looks like – container shortages with increasing demand challenge shipping capacity
As if the market wasn't complex enough, decisions by suppliers seeking semblance of stability, paired with rising demands from retailers and consumers ahead of the holiday shopping season, are making things… complicated.
Container equipment availability is expected to remain an on-going challenge until 2023, as the global fleet is not expected to keep pace with rising cargo demand, despite record output of newbuild containers.
Source: ISM, Supply Chain Dive, Broker notes, Drewry Container Forecast June 2021, Hapag-Lloyd H1 2021 Results, Pacific Shipping Merchants Association
Freight rates, especially on the East-West routes are experiencing a sharp price inflation driven by box shortages and increasing demand.
Source: World Bank, Drewry, HSBC Broker note, UNCTAD
Container freight rates have continued to showcase an upward trend in Q1 2021 and YTD 2021, primarily driven by strong demand, port congestions and equipment shortages.
Shipping capacity remains highly constrained in the short term while supply chain disruptions are expected to keep spot freight rates and surcharges high.
Continued issues and challenges within the global shipping industry, such as the recent Meidong container terminal COVID outbreak and its ramifications, have snags expected to continue through at least 2022 as markets grapple with complication after complication.
What factors are making things even more complicated
Port congestions, primarily due to labour unavailability, continue to impact global East-West shipping lines. Further complications are being caused by issues with shipping container logistics and unforeseen challenges in transport (you may have heard about the recent blocking of the Suez Canal for almost a week in March…).
Source: Supply Chain Drive, Drewry Container Forecast June 2021, Hapag-Lloyd H1 2021 Results, Pacific Shipping Merchants Association
Strong demand for containers, combined with shortages of available chartered ships, have resulted in considerable increases in ship orders and 5-year highs for order volume in proportion to current global container fleet capacity.
Shipping delays, shortage of key components due to stunted production and trade wars have caused supply chain shifts to contribute to acute inventory shortages across all industries.
Logistical challenges, combined with high input prices, are responsible for supplier inventories not translating into adequate customer inventories, with shortages in building materials, rare minerals and shipping containers as key elements driving increased input prices between June 2020 and June 2021.
Source: ISM, Supply Chain Dive, Construction Dive, PR Newswire
In addition, warehouse and logistics labour shortages and rising material costs continue to impact market conditions and availability to produce across industries.
What future-forward suppliers are considering now
While uncertainty continues, suppliers are meeting challenges with ways to mitigate risk and improve their ability to deliver.
Experts anticipate bottlenecks will start to ease in 2022, but some suggest it will be done through forward-thinking initiatives like shorter regional supply chains and tapping into new technology and system solutions. It's a call on suppliers to consider what other future-proofing efforts might be worthwhile, such as:
Maintaining certain levels of "safety stock," to try and get ahead of market demands.
Investing in multistory warehouses or creative space reuse options (think: malls as distribution centers) to accommodate increased inventory needs.
Considering robotic processing and drone delivery as methods to improve product's speed of delivery to the customer.
Annual MHI surveys paint a picture for accelerated digital transformation across global supply chains, with nearly half of supply chain leaders surveyed suggesting they've increased investment in supply chain technologies to make them more responsive and forward-looking.
Source: Broker notes, Factiva, Bloomberg, Reuters, Forbes, Gartner, Forrester, MHI, Deloitte Thought Leadership
Technological advancements like artificial intelligence, robotics, 3D printing, big data, blockchain and cloud computing are all on the table, with anticipated adoptions anywhere from today through the next 5-6 years.
For those on the fence, there should be no question:
technological advancements are the future of industrial supply chain and working on integrations now could make every difference in the months and years ahead.
Source: Broker notes, Factiva, Bloomberg, Reuters, Forbes, Gartner, Forrester, MHI, Deloitte Thought Leadership
Through it all, one thing is certain: companies have an opportunity to change, evolve, and grow with the markets.
Consider:
What could your business shift or re-prioritize for lower risk and higher returns?
To better predict and engage with what's next?
Key Takeaways
Supply chains continue to be impacted by congestions, labour and supply shortages, and that isn't likely to change before 2022.
Outlook shows increased demand for supply, ships and shipping containers, adding to further delays as providers work to scale abilities and offerings.
Bottlenecks could begin to ease in 2022, but suppliers may need to grow and evolve practices with future-forward solutions to help make it happen.
Close to half of surveyed suppliers are looking to technology adoption as an avenue for future-proofing against continued uncertainties.