The Vitality Index: Measuring retail activity and how people shop
Exploring holiday season behavior by retail experience, updated weekly
In-person retail has experienced a recovery, though online retail has experienced a decline, compared with 2020 levels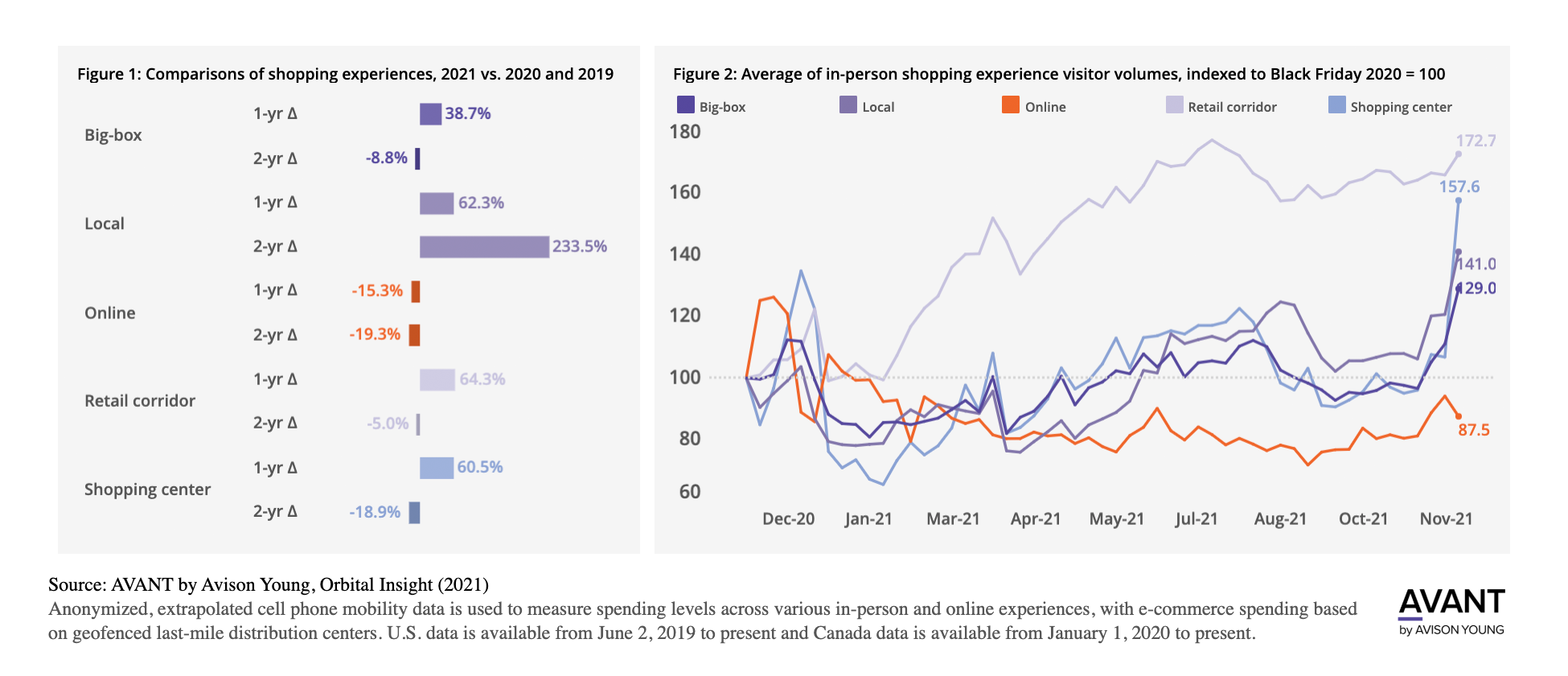 This dashboard is best viewed in a wider browser window.
With the holiday shopping season well underway, retailers are looking for hopeful signs of post-pandemic recovery and answers to questions like: How will in-person and online shopping levels compare with 2019 and 2020 rates? To what extent will supply chain bottlenecks impact spending levels? What are the implications for U.S. and Canadian economies?
To package up answers to these questions and more, the Avison Young Vitality Index is back with an analysis of foot traffic at different types of retail experiences throughout North America, including retail corridors, shopping centers, big box, local retailers and last-mile distribution centers (a useful proxy for e-commerce). Based on our exclusive data, the numbers are encouraging – particularly for in-person shopping experiences - even in the face of headwinds that threaten sales and consumer response.
The Vitality Index, a partnership with Orbital Insight, uses cell phone mobility data to measure visitor volumes weekly. It's broken down to urban and suburban markets across North America and further divided into submarkets and retailers for micro analysis. Want to learn more? Reach out to dig into the hyper-local perspectives of this data.
Initial mobility data shows that in-person retail traffic has rebounded substantially from 2020 but remains behind 2019 levels. Most notably, we're seeing a substantial rise in foot traffic at retail corridors (+62.8 percent), shopping centers (+60.5 percent) and big-box retailers (+40.4 percent) compared with Black Friday 2020 levels. Local retailers also witnessed a bump in activity levels (+17.9 percent) in the same timeframe.
"The data is confirming what our clients have been reporting. There's a pent-up demand for in-person shopping experiences," said Ali Fieder, Vice President, Retail Sales & Leasing, based out of Toronto. "People are excited to get out of the house and to have real-world experiences. We also know this holiday shopping season started early, likely based on concerns over product availability. People saw the reports about supply chain constraints and adjusted their behavior accordingly."
There are several factors pushing this holiday season ahead of 2020, starting with the changing nature of the pandemic itself. Vaccination rates are very high in many regions, fostering safer in-person shopping experiences compared to the year before.
But purely economic factors are also at work. Excess savings during the pandemic is widespread, with estimates as high as $3.7 trillion in the U.S. according to Oxford Economics and high rates in Canada as well. Evidence of increased consumer spending was visible even before the holiday season, increasing in the U.S. by 13.1 percent year-over-year as of October 2021.
The U.S. labor market remains very strong as job openings continue to exceed the number of unemployed workers. The unemployment rate is a healthy 4.2 percent as of November 2021, while hourly wages have increased by 4.8 percent from November 2020 to November 2021. The Canadian unemployment rate is 6.0% as of November 2021, while wages are now 7.7% higher than in November 2019, before the pandemic. These conditions add fuel to consumer spending, as more confident shoppers return to various retail experiences.
Despite these positive signals, real recovery to pre-pandemic levels continues to elude most markets in North America. For downtown urban areas lower volumes of office workers has a direct impact on foot traffic at many retail locations.
"Employers continue to offer hybrid or remote working strategies and that impact on retail can't be ignored," said Stan Yoshihara, Principal and Managing Director Western Region Asset Services, based out of Los Angeles. "Our Vitality Index updates return-to-office rates daily. But until those volumes approach 2019 levels, many retailers, especially those located in metropolitan downtown office markets, will continue to lose out to e-commerce or more localized neighborhood retail shopping locations."
Total retail visitor volumes are down universally across dense urban environments compared to Black Friday 2019 levels. In Los Angeles, visitor volumes are down 4.9 percent, in Manhattan down 18.5 percent, Washington, DC down 23.8 percent and in San Francisco down 33.0 percent. However, select exurban locations (San Diego, up 18.0 percent), and suburban locations (Hartford, up 11.9 percent) have experienced an increase in visitor volumes.
Interestingly, Toronto aggregate retail visitor volumes increased by 102.8 percent since Black Friday 2020, with local retailers (+105.8 percent) and retail corridors (+97.2 percent) leading its substantial year-over-year recovery.
There are forces at work that could suppress retail activity this holiday season, starting with inflation. The U.S Consumer Price Index rose by 6.2 percent year-over-year in October 2021, with Canadian CPI jumping 4.7 percent in the same period. It remains to be seen if these price hikes, at levels not seen since 1990, will dampen consumer activity.
Another significant headwind facing consumers and retailers alike are the supply chain bottlenecks that limit the availability and delivery of products. The explosion of online consumer spending during the pandemic is significant, jumping 45.0 percent since 2019. This has accelerated demand for warehouse/distribution space, tightened the labor market for truck drivers and other blue-collar workers and snarled cargo volumes at major ports and other multimodal hubs.
"Supply chain constraints have implications for both traditional and online retail," added Erik Foster, Principal, Head of Industrial Capital Markets, based in Chicago. "There's a backup at ports and a pinch on distribution space, which put pressure on delivery speed. People's habits and expectations have changed. If they are shopping online and see that the product won't actually be in their hands for a week or two, they are starting to get nervous and just go shop in person."
According to Adobe Analytics, Cyber Monday sales decreased by 1.4% from 2020 to 2021. Our initial assessment of 2021 online shopping mobility data shows that foot traffic on Black Friday at e-commerce distribution centers is down 39.1 percent compared with 2019 and down 18.5 percent compared with 2020 levels.
Overall, the Vitality Index paints an encouraging picture on retail activity but is tempered with caution. Comparing Black Friday activity for the past three years, visitor volumes have accelerated across nearly all in-person retail experiences, up 45.3 percent versus Black Friday 2020, but down 14.6 percent versus Black Friday 2019. Consumer shopping habits have changed significantly since the pandemic began, with the rapid growth of online retail spending, although supply chain issues have slowed recent activity. The return to pre-pandemic in-person shopping will be driven by many factors, including return-to-office trends, the impact of inflation, and the state of the pandemic itself.
Source: U.S. Census Bureau, Bureau of Labor Statistics, Federal Reserve Bank of St. Louis, Institute for Supply Management, Center for Disease Control, Statistics Canada, Government of Canada, Oxford Economics.
About the Vitality Index
The Vitality Index is a real-time window into the movement of people in cities across North America. Working with its partner Orbital Insight, Avison Young's AVANT team has analyzed anonymized cell phone location data geofenced to unique locations, which are aggregated to estimate total visitor volumes. The resulting AVANT by Avison Young dashboard allows easy, real-time access to comparisons to pre-pandemic levels to help guide investors and retailers through unprecedented conditions.