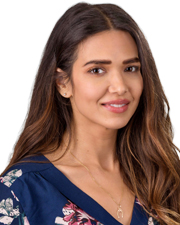 Patricia

Negrych
Associate


Retail

Sales & Leasing

Office
185 Provencher Blvd., Unit 200

Winnipeg, Manitoba R2H 0G4 Canada
Patricia has over a decade of product management and marketing expertise in the Energy Services and Real Estate sectors. She has led process improvement teams and is able to easily adapt the planning process to fit with the culture of your organization.
Patricia is a problem solver, a creative and strategic self-starter who is focued on tangible results and long-term goals. Her extensive market knowledge and strong comprehension of client's business requirements have been instrumental in her ongoing success as a negotiator.
In Patricia's role as a commercial real estate associate, she provides creative, solution-based expertise that leads to dynamic outcomes for her clients. Her strong communication skills, work ethic and positive attitude have led to lasting partnerships within the real estate community.
Patricia believes in giving back to the community and enjoys volunteering. She has served on several committees, currently holding positions as School Board Member and a Parent Advisory Council Member/Coordinator.
Patricia is married to Sam - they have 2 children and a Whippet. They enjoy traveling abroad, art, cooking and nature.
Credentials
Canadian Real Estate Association
Manitoba Real Estate Association
Winnipeg Real Estate Association
Six Sigma Green Belt Certification
Certificate of Specialization in Leadership and Management (GE Canada)
Red River College of Applied Arts, Science and Technology: Certificates in Website Development, Digital AV Production and Creative Writing
---
Properties