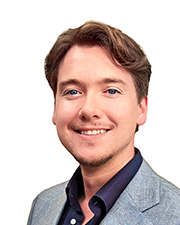 Olivier

Maene
Principal, Global Product Director


Strategic Consulting
2 E. Bryan Street, Suite 403

Savannah, GA 31401 United States
Based out of Savannah, GA Olivier heads up Global Product Management for Avison Young's industry verticals. In his current role, Olivier leads the development of an industry-specific product suite that tackles a broad range of locational challenges for clients in the Healthcare, Data Center, Supply Chain & Logistics, Retail, Life Sciences and other sectors.
He joined the company in 2019 as Global Analytics Lead, building a team of data visualization analysts and overseeing the deployment of Avison Young's analytics platform across the US, Canada, & UK.
Prior to joining Avison Young, Olivier led the development of JLL's Business Intelligence platform in the Mid-Atlantic and Florida, developing a suite of analytical tools that support the firm's brokerage & advisory practices.
Olivier holds a Master of Science in Urban Studies from the universities of Brussels, Vienna, Copenhagen and Madrid (4Cities program), as well as a Bachelor of Fine Arts in Architectural History from the Savannah College of Art and Design.
---