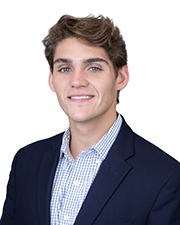 Nick

Mastro
Associate


Capital Markets Group

Net Lease
5411 SkyCenter Drive
Suite 210

Tampa, FL 33607 United States
Nicholas Mastro is a member of the Florida Capital Markets Group and is located in Avison Young's Tampa office. Nick is an integral member of the statewide group that has completed over $16 billion worth of transactions, and he is particularly focused on the Orlando and Tampa markets. Nick will be able to create value for clients by leveraging the vast experience and relationships of the entire team to execute creative marketing plans and source the most aggressive buyers in the state.
Nick graduated from Auburn University with a bachelor's degree in business administration and minors in supply chain management and finance. Nick's strong business knowledge, combined with his charismatic nature, enthusiasm and passion for commercial real estate, has been integral to building successful client relationships.
Nick played collegiate lacrosse and is currently part of a semi-professional lacrosse team in Tampa, FL. It is through athletics that he gained the discipline, motivation and perseverance to excel as a commercial real estate broker.
---
Properties
Redevelopment Opportunity

509 South Hyde Park Avenue

Tampa, FL 33606

Land
For Sale
Palatka Promenade

400 N State Road 19

Palatka, FL 32177

Retail
For Lease
1251 East Fowler Avenue

1251 East Fowler Avenue

Tampa, FL 33612

Retail
For Lease
Manatee Palms

1128 Manatee Ave E

Bradenton, FL 34208

Hospitality
For Sale
4640 53 Rd Ave E

4640 53 Rd Ave E

Bradenton, FL 34203

Land
For Sale
3800 US Highway 98 North

3800 US Highway 98 North

Lakeland, FL 33809

Retail
For Lease
The Hub on Third Avenue & Hub on University

1258 Northwest 3rd Avenue & 1111 W University Avenue

Gainesville, FL 32601

Retail
For Lease
9735 US HIGHWAY 19

9735 US HIGHWAY 19

PORT RICHEY, FL 34668

Retail
For Sale
The National

28059 US Highway 19 N

Clearwater, FL 33731

Retail
For Lease
Jiffy Lube

1355 S Semoran Boulevard

Orlando, FL 32807

Retail
For Sale
Jiffy Lube

420 N State Road 434

Altamonte, FL 32708

Retail
For Sale
2131 Brinson Road

2131 Brinson Road

Lutz, FL 33558

Land
For Sale