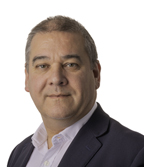 Neil

Walters
Principal


Project Management
65 Gresham Street

London, EC2V 7NQ UK
With a background in commercial design and a base qualification in Interior Architecture, Neil has over the last 33 years undertaken roles both as a consultant and in a client-side development role. This affords Neil an understanding of both sides of most arguments and one which is based on personal experience and technical competence and which generates respect from all stakeholders.
Neil is very commercially focused on getting the best outcome for his clients and they value his perspective and measured approach. Adopting a simple and transparent thought process these skills compliment the Contract Administrator and Employer's Agent roles where Neil's experience comes to the fore. Getting the contractual arrangements set up correctly at the outset, ensures that most issues have a clear and predictable conclusion.
Neil leads our Hotels and Hospitality sector and is experienced in all forms of commercial development having led major and complex projects including hotels, leisure, residential, mixed-use, retail, office and industrial schemes for some of our most long standing clients including Helical Plc, Brookgate, Europa Capital, St Martins, U&I Plc, Henderson, Aspria, Generation Estates, PMB Holdings, Ediston, Legal & General, Deerbrook, Shiva, Caudwell, Ambassadors Theatre Group, Trafalgar Entertainment Group and Sky.
---