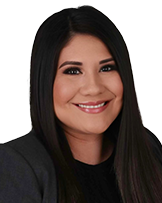 Melissa

Campos
Assistant Property Manager


Property Management
5555 San Felipe St
Suite 250

Houston, TX 77056
As Assistant Property Manager, Melissa Campos is responsible in overseeing the day-to-day management and operations of 5555 San Felipe, a 1.2 million square foot class A office building in the Uptown/Galleria submarket, including lease and contract administration, financial reporting, budget preparation, prior year reconciliations and tenant relations.
In 2017, Melissa began her career with a global commercial real estate firm as a Real Estate Services Coordinator for Marathon Oil Tower. In 2018, M-M Properties purchased Marathon Oil Tower and promoted her to Tenant Services Coordinator. In that position, she was responsible for all accounts payable and receivable related functions for the building. In addition to the accounting aspect, she served as the focal point for all building tenants, contractors, and vendors. In May 2022, Madison Marquette became the new property management company and was promoted to Assistant Property Manager for 5555 San Felipe prior to joining Avison Young in October 2022.
Throughout her tenure, she has strived to provide a positive and reliable experience to her tenants through quality customer service and has dedicated herself in ensuring her clients goals are being met for the asset. She takes pride in the relationships she has built with her tenants, clients, and vendors.
Education
Texas State University - Bachelor of Science in Geography with a minor in Political Science and History
---