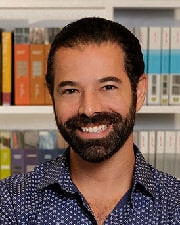 Mark

Lo Bue
Director, Workplace Strategy


Project Management
20 Commerce Street

Springfield, NJ 07081
Mark's extensive 20+ years of experience in the field of interior design begins at the planning stage. He believes that the success and outcomes of any project is the implementation of an in-depth and thorough strategic plan.
Understanding how people navigate, function, and interact throughout a space is a critical focus for the solutions he offers his clients. The analysis he performs reveals strategic ways in which an organization can improve employee engagement, retention, productivity and efficiency, workplace investment, and the fostering of collaboration and attraction of talented professionals alongside the enhancements of brand messaging.
Creative problem solving comes naturally to Mark. His ability to articulate and present thought-provoking questions and ideas help to promote change and new ways of looking at workplace environments and the user experience. Through the methods of programming, space utilization, and analysis, he can map out and depict the functions and planning needs of interior spaces for his clients. The collaboration he has with the Design and Pre-Construction teams on this data establishes the planning parameters for these teams to confidently develop into further detail for the project.
Mark is a valuable asset and brings great strength to the studio team, working with their corporate, industrial, and professional services clientele to deliver comprehensive workplace strategy services.
---