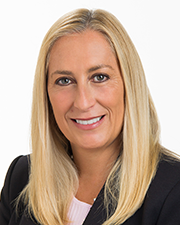 Lisa

Jesmer
National Director, Investor Service Business Development


Capital Markets Group

Consulting & Advisory
2020 Ponce de Leon Boulevard
Suite 1200

Miami, FL 33134 United States
In her current role of National Director of Investor Services for Avison Young, Lisa Jesmer is responsible for procuring business across the integrated services platform for the U.S. She creates new opportunities with existing and target clients with a direct approach while also promoting collaboration across all business lines. In this role, she is responsible for developing collateral and marketing materials, as well as utilizing the highly regarded technology platform to enhance customized reporting and tailored best-in-class services.
As former Senior Vice President of Investor Client Accounts for Franklin Street, Lisa focused on business development and client relationships across all property management product types and markets. With a primary focus on creating value for clients, she brought together Franklin Street's integrated management platform across all asset classes. Lisa also oversaw management and leasing for the state of Florida portfolio and all business lines in Georgia, including office, industrial, retail and multi-family.
For six years through 2016, Lisa served as Senior Director of Asset Services for Miami-Dade, Broward, and Palm Beach counties at a top commercial real estate agency, in which she managed a region of more than 20 million square feet of office, industrial and retail products. Before that, she worked and consulted as Director of Real Estate for Jackson Health Systems in Miami, in which she oversaw operational and financial management for the System's healthcare real estate portfolio. Lisa formerly worked for another leading commercial real estate firm for over 18 years as the Regional Manager and Senior Vice President for Florida, in which she fostered and maintained valuable client relationships with numerous national firms and oversaw all functions of management and leasing for the states of Georgia and Florida.
Lisa is a member of the Building Owners and Managers Association (BOMA) and Commercial Real Estate Women (CREW). She was recognized as a 2016 Woman of Influence by the Real Estate Forum, won the Biggest Impact award in her first year of Franklin Street and was a recipient of the Sales Rewards Trip for 2017/2018.
Credentials
Bachelor of Arts in Engineering with a second degree in Finance, Rochester Institute of Technology
Licensed State of Florida Real Estate Sales Associate
Licensed State of Georgia Real Estate Sales Associate
Licensed State of Washington D.C. Real Estate Sales Associate
---