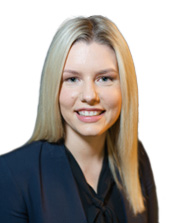 Lisa

Blumer
Vice President


Sales & Leasing
301 E Las Olas Boulevard
Suite 500

Fort Lauderdale, FL 33301 United States
Lisa Blumer is a member of Avison Young's Fort Lauderdale agency office leasing team representing a portfolio of 3.2 million square feet throughout Broward and Palm Beach Counties. Lisa provides strategic real estate advisory services and advocates on behalf of her client base including institutional and private Landlords.
Prior to relocating to South Florida, Lisa began her career in real estate in 2015 in Avison Young's Tampa office where she also specialized in agency office leasing.
Lisa attended Florida State University where she earned a B.S. in Sociology. She currently lives with her husband in downtown Ft. Lauderdale.
---
Properties
First Horizon Financial Center

150 S. Pine Island Road

Plantation, FL 33324

Office
For Lease
North 40 - 901 Building

901 Yamato Road

Boca Raton, FL 33487

Office
For Lease
North 40 - 5201 Building

5201 Congress Ave

Boca Raton, FL 33487

Office
For Lease
Research Park at Florida Atlantic University - Innovation Centre 1

3998 FAU Blvd.

Boca Raton, FL 33431

Office
For Lease
Southpointe

7901 SW 6th Court

Plantation, FL 33324

Office
For Lease
Charter Place

3301 North University Drive

Coral Springs, FL 33065

Office
For Lease
595 Financial Center - 595 Tower

595 S Federal Hwy

Boca Raton, FL 33432

Office
For Lease
2611 E Oakland Park Blvd

2611 E Oakland Park Blvd

Fort Lauderdale, FL 33306

Office
For Lease
Sawgrass Commerce Center - Building B

14050 NW 14th Street

Sunrise, FL 33323

Office
For Lease
Sawgrass Commerce Center - Building A

13800 NW 14th Street

Sunrise, FL 33323

Office
For Lease
Crossroads Business Park II

8151 Peters Road

Plantation, FL 33324

Office
For Lease
Lynn Financial Center - 1875

1875 NW Corporate Boulevard

Boca Raton, FL 33431

Office
For Lease
Deerfield Corporate Park - Building B

776-858 S Military Trail

Deerfield Beach, FL 33442

Office
For Lease
200 East Las Olas

200 East Las Olas Boulevard

Fort Lauderdale, FL 33301

Office
For Lease
Crossroads Business Park IV

8050 SW 10th Street

Plantation, FL 33324

Office
For Lease
Research Park at Florida Atlantic University - Innovation Centre 7

3231 NW 7th Avenue

Boca Raton, FL 33431

Office
For Lease
Sawgrass Corporate Centre II

1571 Sawgrass Corporate Centre II

Sunrise, FL 33323

Office
For Lease
The Plaza at Las Olas - 301 Building

301 East Las Olas Blvd

Fort Lauderdale, FL 33301

Office
For Lease
Sawgrass Pointe I

1000 Sawgrass Corporate Parkway

Sunrise, FL 33323

Office
For Lease
Lynn Financial Center - 1905

1905 NW Corporate Boulevard

Boca Raton, FL 33431

Office
For Lease
Crossroads Business Park I

8201 Peters Road

Plantation, FL 33324

Office
For Lease
Weston Corporate Campus - Building I

2000 Ultimate Way

Weston, FL 33326

Office
For Lease
Weston Corporate Campus - Building II

2002 Ultimate Way

Weston, FL 33326

Office
For Lease
Research Park at Florida Atlantic University - Innovation Centre 2

3848 FAU Blvd.

Boca Raton, FL 33431

Office
For Lease
Research Park at Florida Atlantic University - Innovation Centre 3

3701 FAU Blvd.

Boca Raton, FL 33431

Office
For Lease
The Edison Pembroke Pines - Building I

1200 SW 145 Avenue

Pembroke Pines, FL 33027

Office
For Lease
Research Park at Florida Atlantic University - Innovation Centre 4

3651 FAU

Boca Raton, FL 33431

Office
For Lease
Sunrise Corporate Plaza

1300 Sawgrass Corporate Pky

Sunrise, FL 33323

Office
For Lease
The Edison Pembroke Pines - Building II

1400 SW 145th Avenue

Pembroke Pines, FL 33027

Office
For Lease
Research Park at Florida Atlantic University - Innovation Centre 6

3600 FAU Blvd

Boca Raton, FL 33431

Office
For Lease
Radius at Sawgrass

Sunrise Blvd & NW 136th St

Sunrise, FL 33323

Office
For Lease