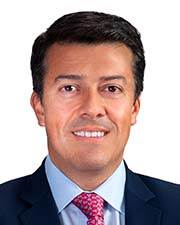 Juan

Bueno
Principal
U.S. President

One South Wacker Drive
Suite 3000

Chicago, IL 60606-4649 United States
As Principal and U.S. President, Bueno leads all business within the U.S., working directly with the firm's CEO, Principals and executive team to realize the firm's strategy across more than 50 offices in 20 states and the District of Columbia, with a regional workforce comprised of approximately 2,000 professionals. He is a member of the Board of Directors and serves on Avison Young's Executive Committee.
Bueno provides organizational leadership with disciplined planning and execution, leveraging Avison Young's investment in data and technology to transform how real estate achieves business goals for clients. He also attracts and develops top talent at all levels of the organization across the U.S.
Prior to joining Avison Young, Bueno served as Vice President of Sales at The Home Depot, where he was responsible for approximately $6 billion in wholesale business and more than 2,100 associates across multiple business service lines. He has an extensive background in operational and project management and has held executive positions with top-tier global management consulting firms, including McKinsey & Company, where as a Partner he led strategic growth and performance improvement projects across an array of industries around the world.
Bueno is active in his community and currently serves on the boards of both the Latin American Association and Big Brothers Big Sisters in Atlanta, GA, where he is based.
Credentials
Master of Business Administration (MBA) from the Kellogg School of Management, Northwestern University
Bachelor of Science degree in Business Administration, Major in Finance from the Universidad de los Andes, Bogotá, Colombia
---