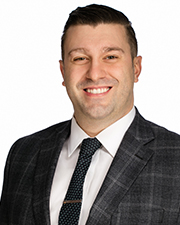 Haig

Basmadjian
Senior Associate


Investment

Multifamily
525 - 8th Avenue SW
Suite 4300

Calgary, AB T2P 1G1 Canada
Haig is an Associate at Avison Young and works in the Calgary Multi-Family Investment Sales Group.
Haig works alongside David Mackenzie and Mason Thompson in providing Investment Real Estate Services in the Multifamily sector throughout Alberta and British Columbia. As a Multifamily Specialist in the Avison Young Calgary Office, Haig joins an energetic and dynamic team that is dedicated to achieving client goals. Haig is a member of NAIOP and ICSC and holds a real estate license in both Alberta and BC which can facilitate the movement of capital between both provinces.
Prior to Joining Avison Young, Haig was a broker at an investment sales brokerage in Vancouver focusing on hospitality assets. His exposure to diverse asset classes gives him a deep understanding of the investment sales process across various property types. This gives Haig the ability to identify client's needs and apply his knowledge to their investment goals. Haig graduated from UBC in 2015 from the Sauder School of Business with a Bachelors of Commerce. While pursuing his studies, Haig was on Team Canada's Fencing Team and competed at the 2013 University Games in Russia and has held both provincial and national titles.
---
Properties
Best Western Airdrie

121 Edmonton Trail SE, Airdrie, AB

Airdrie, AB T4B 1S2

Hospitality
For Sale
1003 - 1013 11 Street SE

1003 - 1013 11 Street SE

Calgary, AB T2G 3E9

Land
For Sale
833 1st Avenue NW

833 1st Avenue NW

Calgary, AB T2N 0A4

Multifamily
For Sale
Cassils Vista

1003 Cassils Road West

Brooks, AB T1R 1A7

Multifamily
For Sale
Comfort Inn & Suites

5404 Lakeland Road

Bonnyville, AB T0H 1P0

Hospitality
For Sale
Comfort Inn & Suites

317 1st Avenue

Fox Creek, AB T0H 1P0

Hospitality
For Sale
SOLD | MacDonald Apartments

215 15 Avenue SE

Calgary, AB T2G 1G4

Multifamily
For Sale
Econo Lodge

104 Highway Avenue

Fox Creek, AB T0H 1P0

Hospitality
For Sale
SOLD | Country Inn & Suites Calgary Airport

2481 39 Ave NE

Calgary, AB T2E 8V8

Hospitality
For Sale
SOLD | Granville House & Idylwild Apartments

1343 & 1349 Northmount Dr. NW

Calgary, AB T2L 0E7

Multifamily
For Sale
SOLD | Elbow Mission Apartments, 32-Unit Building

111 24th Avenue SW

Calgary, AB T2S 0J8

Multifamily
For Sale
SOLD | Cheticamp, 7-unit building

4347 - 73 Street NW

Calgary, AB T3B 2M2

Multifamily
For Sale
SOLD | Cavendish, 6-Unit Building

4315 - 73 Street NW

Calgary, AB T3B 2M2

Multifamily
For Sale
SOLD | The Sibley Apartments

316 18th Avenue SW

Calgary, AB T2S 0C3

Multifamily
For Sale
SOLD | Louisbourg, 30-unit building

1440 Memorial Drive NW

Calgary, AB T2N 3E5

Multifamily
For Sale
SOLD | Shediac, 26-unit building

1701 - 35 Street SE

Calgary, AB T2A 1B4

Multifamily
For Sale
SOLD | Cape Breton, 14-unit building

1216 - 14 Street SW

Calgary, AB T3C 1C3

Multifamily
For Sale
SOLD | Annapolis Royal, 19-unit building

641 Meredith Road NE

Calgary, AB T2E 5A9

Multifamily
For Sale
SOLD | Wycocomagh, 28-unit building

1626 - 15 Avenue SW

Calgary, AB T3C 0Y2

Multifamily
For Sale
SOLD | Tatamagouche, 24-unit building

609 - 2 Avenue NE

Calgary, AB T2E 0E9

Multifamily
For Sale
SOLD | Amherst, 12-unit building

1826 - 17 Street SW

Calgary, AB T2T 4M2

Multifamily
For Sale
SOLD | Aspen, 16-unit building

306 - 21 Avenue SW

Calgary, AB T2S 0G8

Multifamily
For Sale
SOLD | Yarmouth, 28-unit building

2019 - 17 Avenue SW

Calgary, AB T2E 0E7

Multifamily
For Sale
SOLD | Dartmouth, 11-unit Building

2124 - 15 Street SW

Calgary, AB T2T 3Y8

Multifamily
For Sale
SOLD | Miramichi, 8-unit building

2131 - 17 Avenue SW

Calgary, AB T2S 2T2

Multifamily
For Sale
SOLD | 1816 16a Street SW

SOLD | 1816 16a Street SW

Calgary, AB T2T 5S2

Multifamily
For Sale