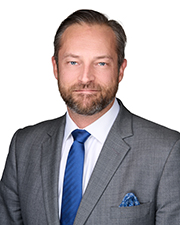 Duncan

Hamilton
Principal, Global Client Services


Industrial

Tenant Representation

Occupier Solutions

Global Client Services
22 Ganton Street

London, W1F 7FD UK
Duncan specialises in corporate real estate strategic consulting, transaction management, and portfolio management. Based in London he oversees corporate accounts in the EMEA and Asia Pacific regions as well as managing international business development initiatives for Avison Young. During the last 5 years, Duncan has managed projects totaling over 2 million square feet, and operated in more than 50 countries globally.
Bringing a broad range of international experience to the company, Duncan joined Avison Young in November 2012. Prior to joining Avison Young he worked as the Head of European Global Corporate Services at Grubb & Ellis where his responsibilities included coordination of EMEA business activities, management of key accounts (over 40 million square feet and 1,000 global locations), and strategic consulting.
Duncan is a successful real estate manager with extensive experience in development and implementation of real estate solutions, both at local and international levels, who has applied knowledge of property practice, financial and performance metrics, and a good understanding of international business issues.
Being from Canada, Duncan is ideally suited to working with North American clients. His experience in North American real estate markets combines with his international expertise and allows the relation of key differences between international markets to those clients which may have limited experience operating in international markets. Clients find this experience a benefit as it helps to plan and budget for challenges that may be unique and unfamiliar in given markets.
Credentials
Professional Experience
- Avison Young (London, UK) – Director, Global Client Services (2012 – Present)
- Grubb & Ellis (London, UK) – Senior Director, Corporate Occupier Services (2006 – 2012)
- Knight Frank (London, UK) – Associate, Corporate Real Estate (2004-2006)
- ATIS Real Weatheralls (London, UK) – Account Manager, Corporate Real Estate (2003-2004)
- CRESA Partners (Calgary, Canada) – Senior Advisor, Tenant Representation (2002-2003)
- JJ Barnicke (Calgary, Canada) – Advisor, Tenant Representation (1998-2002)
University of Western Ontario, Canada - Bachelor of Arts in Philosophy (Honors)
Publications
"US Business Expansion Overseas: Opportunity and Surprise", Area Development, Summer 2012
---